Funds
Large Pool of Investment Capital
As of the end of March 2021, JAFCO had established over 100 investment funds with total commitments of ¥1 trillion.
There are about 1,200 investors in our funds, including financial institutions, pension funds, and business corporations. This is a testament to the trust JAFCO has built over the last 40 years in the private equity industry.
JAFCO SV6 Series (est.2019) Investor Composition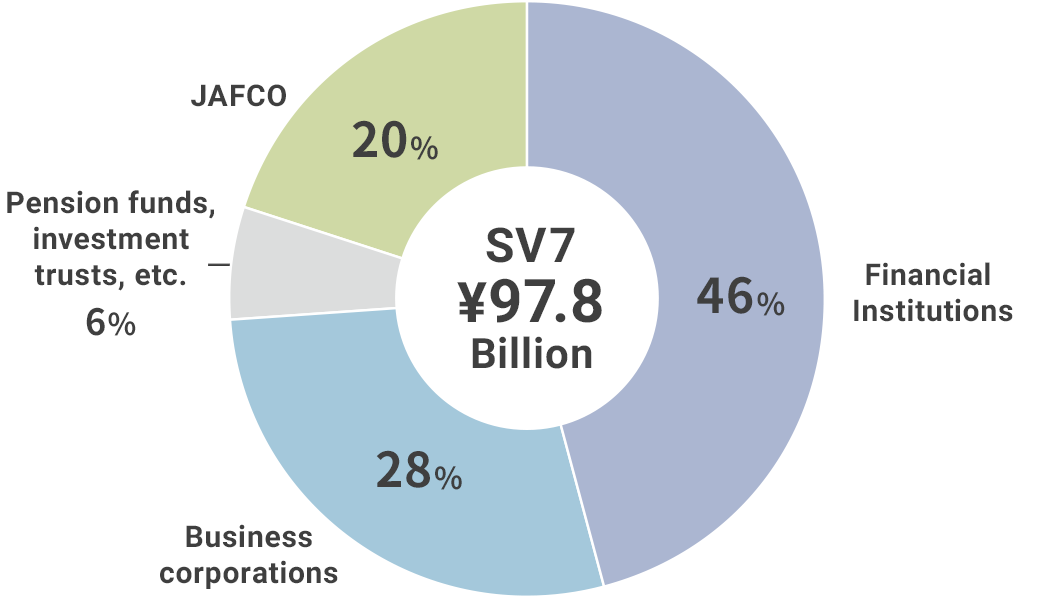 Three Management Policies
We raise capital for funds from institutional investors and business firms once in about every three years. We invest our own capital in funds alongside investors, committing around 40% of the fund size. Partners and employees also invest in funds as individual investors. As Japan's pioneer in venture capital fund management, we will preserve discipline and transparency under the following three management policies.
We do not establish industry-specific funds
We do not establish investor-specific funds
We only conduct fund management
Investment Through Funds
JAFCO makes investments through investment limited partnerships (funds).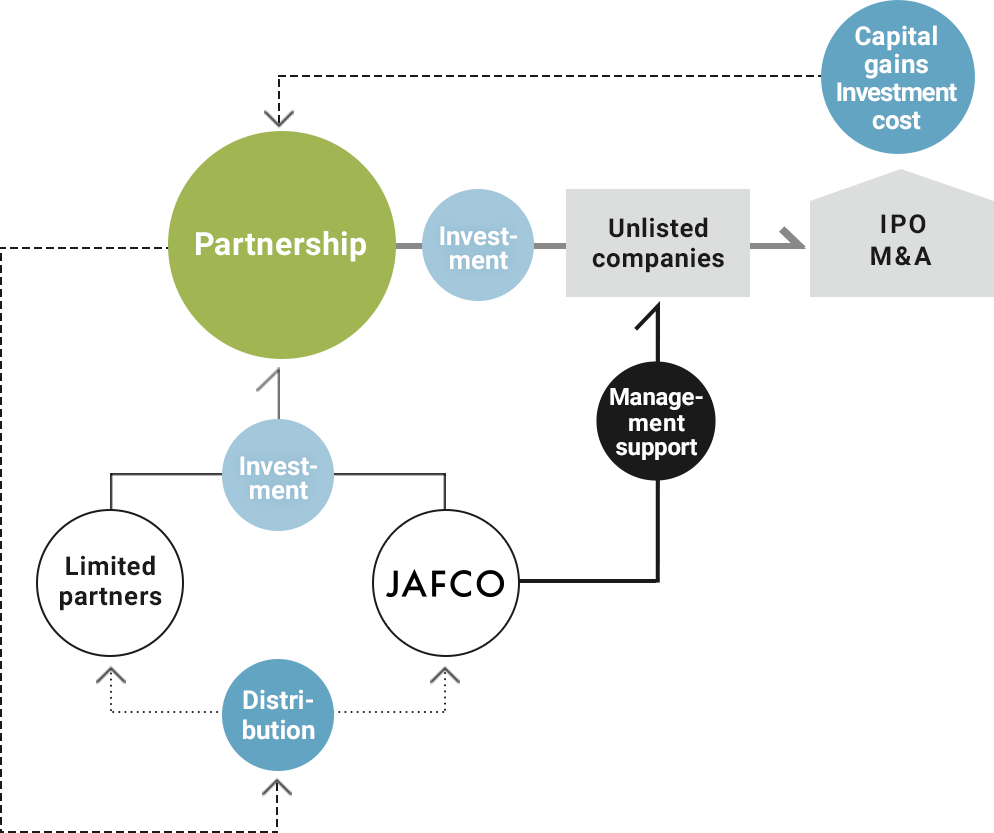 Main Funds Making New Investments
Establishment
Name of fund
Investment target
Total commitment amount
Jun. 2019
JAFCO SV6 Series
Private equity investment in domestic companies with high growth potential
¥80.0 Billion
Apr. 2017
JAFCO Asia Technology
Fund VII L.P.
Private equity investment in technology companies mainly in Asia (excluding Japan)
US$ 140 Million
Dec. 2015
Icon Ventures VI, L.P.
Private equity investment in information and telecommunication companies mainly in the US
US$ 375 Million
"Total commitment amount" is the total amount committed by partners under the terms of the relevant partnership agreement as of the final closing.
Funds under Management
2020.03
2021.03
No. of funds
27
27
Total commitment amount
(JAFCO's share)
¥433.9 billion
(40.8%)
¥451.5 billion
(40.4%)
Note:

"Total commitment amount" is the total amount committed by partners under the terms of the partnership agreements.
US dollar-denominated commitments have been converted into yen at the exchange rate as of the end of each consolidated fiscal year.
To Fund Investors
Please click below to receive fund management reports, etc. through POSTUB (an online mailbox system).
*

The above system is not compatible with smartphones or mobile phones.