"BACK TO THE VENTURE" approaches the story of the venture era of a leading company in the industry. This time, Mr. Jun Okamoto, Audit & Supervisory Board Member of YAMADA HOLDINGS CO., LTD., Ltd., which became a holding company in October 2020, will appear. What is the venture spirit that Yamada Denki, which has climbed from an electronics store in Maebashi City, Gunma Prefecture to the largest electronics retail store in Japan, continues to embrace the current situation?
【profile】
Jun Okamoto, Audit & Supervisory Board Member, YAMADA HOLDINGS CO., LTD., Ltd.
Born in Oita Prefecture in 1956, graduated from the Faculty of Law, Osaka University. After working at Nomura Securities Co., Ltd. in 1979, he joined Yamada Denki Co., Ltd. in April 2006, and was appointed as Director, Senior Managing Executive Officer, General Manager of Administration Division and General Manager of Corporate Planning Office in June 2006. After that, in April 2012, he became a director, executive officer, vice president, corporate planning office manager, S × L department manager, and CSR promotion office manager, and in October 2019, he became a director, executive officer, managing director, corporate planning office manager, and sustainability promotion office manager. Appointed Audit & Supervisory Board Member in June (current position).
[What's YAMADA HOLDINGS CO., LTD.]
Founded in 1973 as Yamada Denki Service by Noboru Yamada (currently Chairman of YAMADA HOLDINGS CO., LTD., Ltd.) in Maebashi City, Gunma Prefecture. Established Yamada Denki Co., Ltd. in 1983, and listed its shares on the First Section of the Tokyo Stock Exchange in 2000. Leading the industry as Japan's largest consumer electronics retailer.
In 1973, "Yamada Denki Service" was born in Maebashi.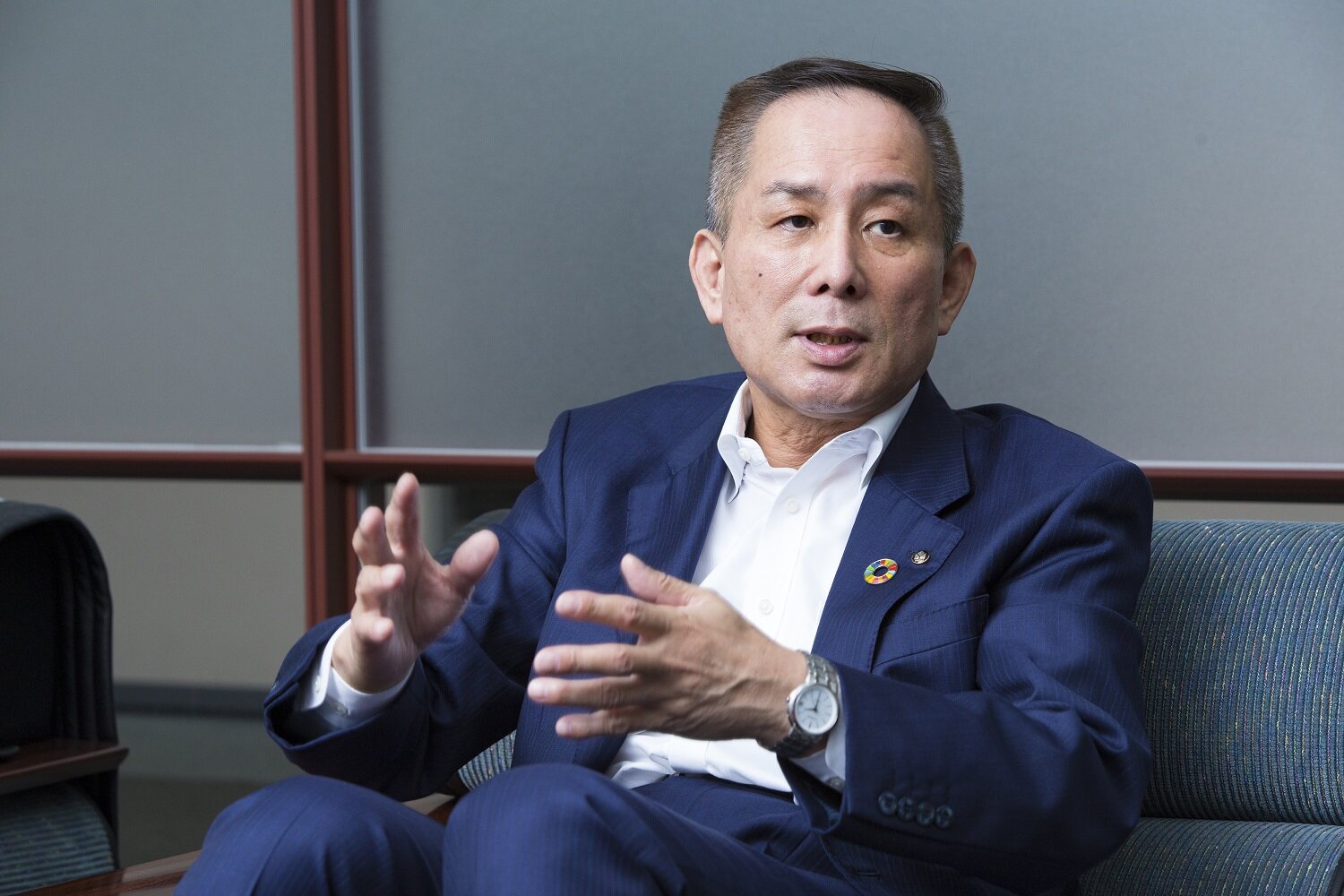 -Mr. Okamoto joined Yamada Denki from Nomura Securities in 2006 as an advisor to the president's office. Why did you join Yamada Denki?
Yamada Denki was originally a client when he was working for Nomura Securities. I was asked by the founder Yamada (Noboru Yamada, Chairman of YAMADA HOLDINGS CO., LTD., Ltd.), who was the president at the time, and refused at first because he did not have such ability, but he enthusiastically invited me many times. At the end of my 40s, I decided to take on a new challenge (laughs).

-What was the situation with Yamada Denki at that time?
In 2002, it became the largest consumer electronics retailer in Japan and was gaining momentum. It is probably because Daikuma, which had a discount store in Kanagawa, was absorbed and merged. By starting to handle miscellaneous goods, the use of points accumulated in home appliances and the increase in membership are accelerating. It also led to the expansion of Kanagawa's market share and the securing of excellent human resources.

-I think there have been several turning points in such growth since the company was founded in 1973. Did you hear from Chairman Yamada about the episodes of the venture era?
Yes. I often talk about myself in lectures (laughs).
The origin of Yamada Denki is a consumer electronics store opened when Yamada from JVC (currently JVC KENWOOD) was 30 years old. His wife was also a Victor, and he became independent when his eldest son was in his stomach. I've heard that the reason for getting rid of Sarah is "I wanted to work in an environment where my abilities are more properly evaluated."
At that time, color TVs began to spread, and door-to-door sales were the mainstream for home appliances. Yamada signed a contract with Matsushita Electric Industrial Co., Ltd. (currently Panasonic), and first conducted market research on 300 neighborhoods a day, for a total of 10,000 roller operations. Since Yamada had graduated from a vocational school of television technology, he undertook not only sales but also repairs, and in the fifth year it expanded to 5 stores and annual sales of 600 million yen, but in the face of difficulty in human resource development, the head office We have decided to close stores other than the above.

-How did you come up with the business format of a consumer electronics mass retailer that stocks products from various manufacturers?
When I closed the store, I made a leaflet for home appliances, which was rare at that time, and sold it all at once. It seems that the products sold like crazy, and manufacturers other than Matsushita Electric came to sell them asking them to handle our products. It seems that the customers were pleased to be able to compare and purchase multiple products, and from there they started a business format called "home electronics mass retailers". We invited our nephew brothers (Tadao Ichinomiya and Koji Ichinomiya, former management team of Yamada Denki) from Miyazaki to increase the number of stores.

Struggling to raise funds despite expanding stores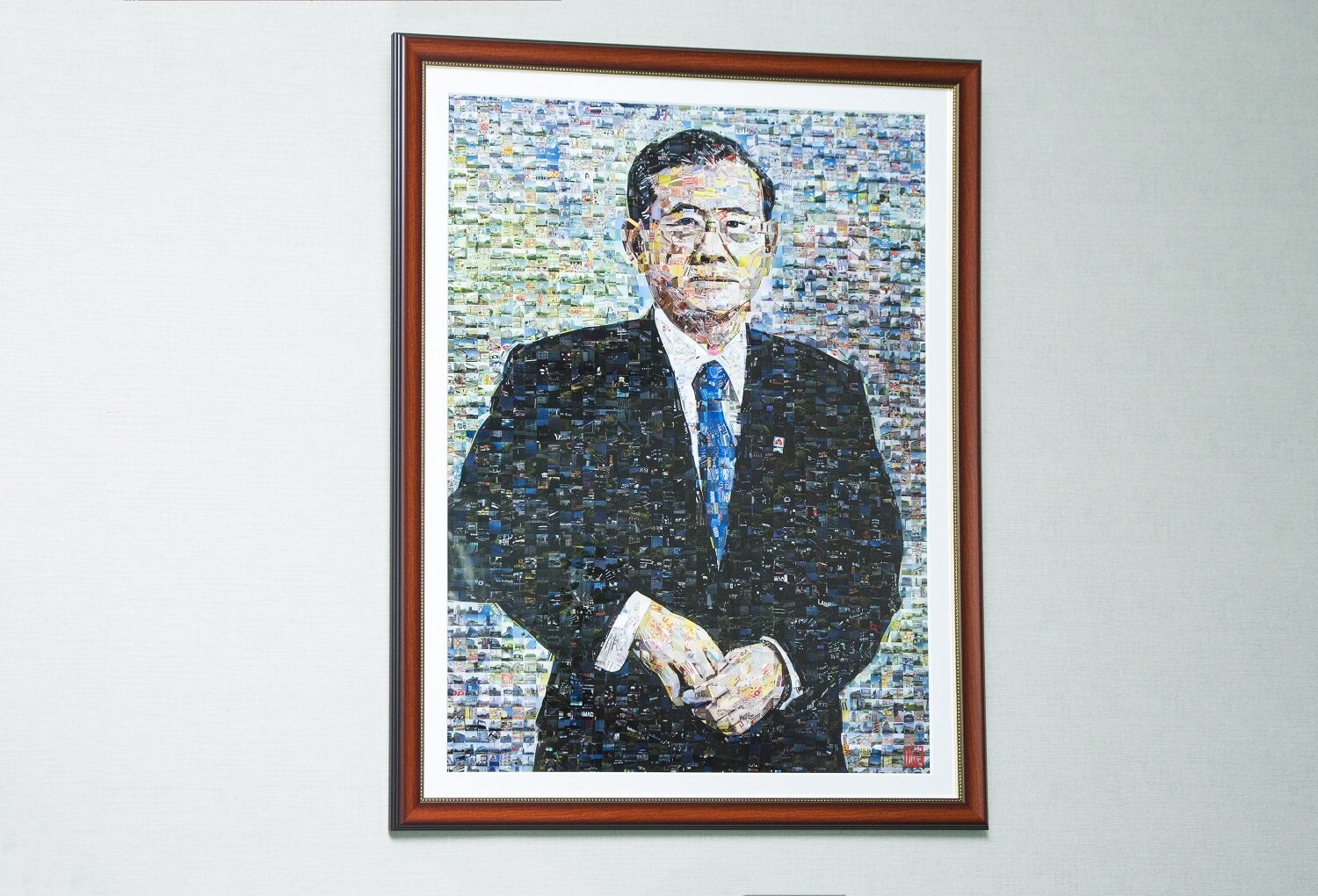 Portrait of Chairman Yamada drawn by cutting and pasting a photo of the store

-After establishing Yamada Denki Co., Ltd. in 1983, we have received three investments from JAFCO (then Japan Joint Finance) from 1985 to 1987. Please tell us about the episode at that time.
In fact, at that time, I was struggling to raise funds from banks. All the stores were rented and had no collateral. In rural areas, renting is less risky and more efficient than buying because the location conditions change with just one bypass. But instead, the bank didn't let me know.
At that time, the annual sales were about 20 billion yen. I knew that it would be profitable to open a store, but I couldn't open it because I didn't have the funds. It was Mr. JAFCO who came in such a difficult situation. It seems that the retail chain format, which was growing in power at that time, was attracting attention as an investment target. Listed on JASDAQ in 1989 after receiving a total investment of approximately 1.4 billion yen in three years. Now you can raise money from the stock market.

-It has been about 5 years since the company became a joint-stock company and went public. What helped that speed, even though it had the purpose of raising money?
When Yamada started a mass retailer, I heard rumors that there were similar people in Tochigi. This is Mr. Katsuhei Kojima, the founder of Kojima Electric (currently Kojima). Yamada made a courtesy visit immediately and foresaw that he would eventually advance to Gunma, so he made a joint-stock company and opened a store to consolidate.
Moreover, Kojima Electric had a bank backup, and the store was expanding quickly. I think I was desperate not to lose to Mr. Kojima. Yamada still talks about the person in charge of JAFCO at that time as a "beneficiary."

-The existence of rivals has made the company grow.
Yamada Denki in Gunma, Kojima Denki in Tochigi, Kato Denki in Ibaraki (currently K's Holdings), and the big bargain sale battle of the three companies were called "Kita Kanto Home Appliance War" and "YKK War". Daiichi of Hiroshima (currently EDION) will enter the market, and Yamada Denki will embark on a nationwide expansion starting with the expansion into Hiroshima.
その頃うちはNEBA(日本電気大型店協会)を脱退していて、加盟企業より10%ほど高い原価で商品を仕入れていたので、メーカーは次々に協力してくれました。仕入れた商品は北関東と同水準の低価格で販売したため、客足は予想以上に伸びました。原価の高い商品を安売りしても利益が出たのは、広島進出を機に導入した自社物流システムや新しいPOSシステムにより、交叉比率(商品回転率×粗利益率)を高められたからです。

-And in 2002, he jumped to the top, overtaking Kojima, which became the industry leader in 1997.
Until the Large-Scale Retail Store Location Law (Large-Scale Retail Store Location Law) came into effect in 2000, there was a rule that examinations would be conducted when a store of 500 square meters or more was opened. For this reason, all companies were actively opening stores of less than 500 square meters, but with the enforcement of the Large-scale Retail Location Law, regulations based on store area have been abolished. Yamada Denki, which was based on the premise of scrap and build, had kept down the cost of opening stores, so it was possible to easily shift to larger stores and speed up store openings.
If the merger of Daikuma, which I mentioned earlier, is the second turning point for growth, the first turning point is probably the event in 2000. In the same year, it was listed on the First Section of the Tokyo Stock Exchange. By the way, Yamada often says that the reason why Yamada Denki's "ki" was changed from "vessel" to "machine (motor)" was because it was looking at business development beyond home appliance sales from that time.

Continue to "create and challenge" without being content with successful experiences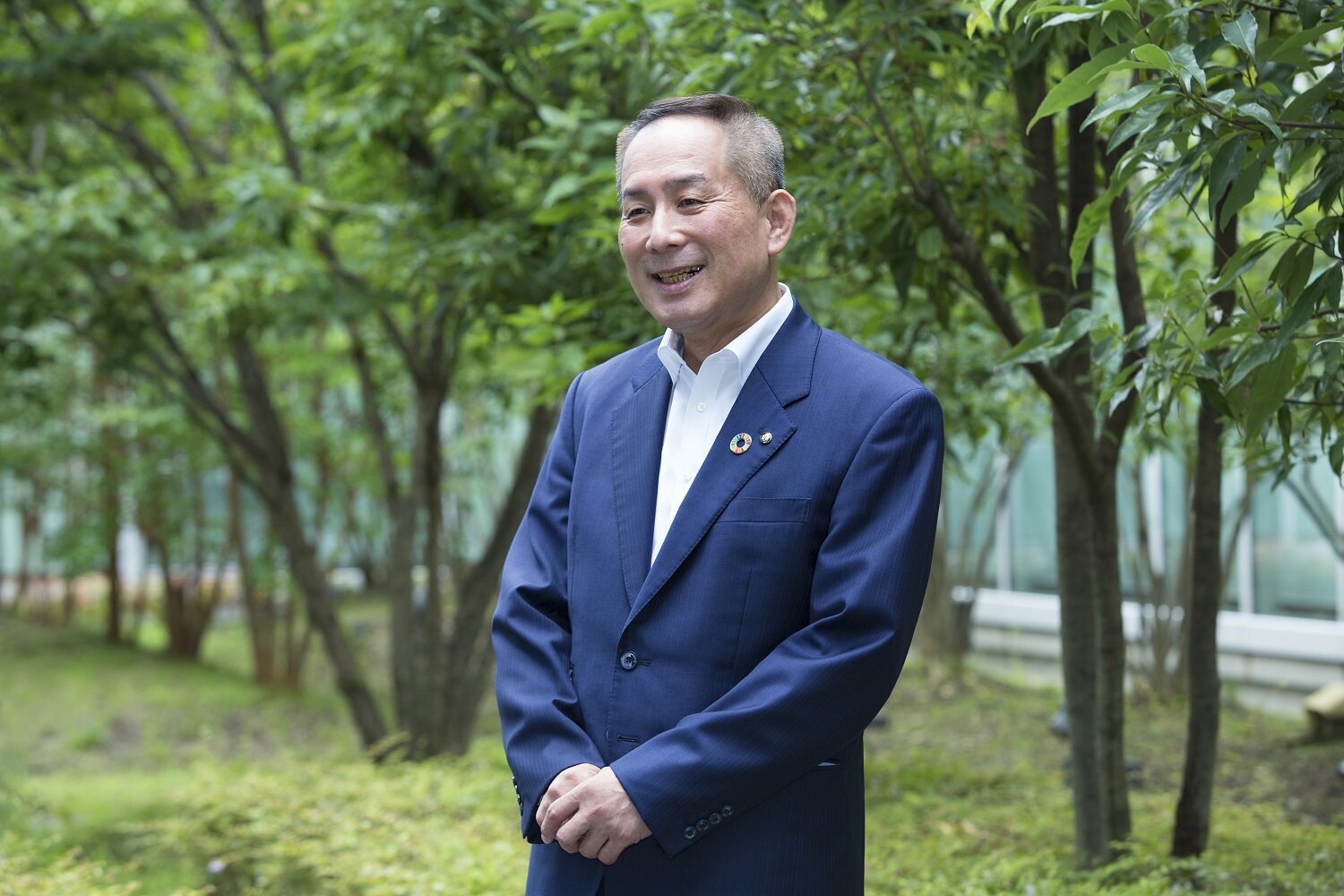 -Since 2002, you have maintained the top position in the industry. What do you think is the reason for this?
Yamada is so conscious of being the top that he wonders, "Why are you so conscious of being second or lower?" Despite the fact that the difference in sales from the second-largest consumer electronics retailer is nearly double. Top companies are always chased and destined to be imitated, so they must change one after another.
As you can see from our store, isn't it different from general home electronics mass retailers?

-Yes. The interior of Otsuka Kagu, which became a subsidiary last year, was exhibited together with home appliances, and it looked like a model room.
Following the Great East Japan Earthquake in 2011, we started a smart grid business such as solar panels, storage batteries, and EVs, which can only be done by a company that handles home appliances. That was the impetus for starting the remodeling business, which led to the business concept that we are currently strengthening, which is to propose a "whole life" that includes home appliances, interiors, housing, remodeling, finance, insurance, etc.
Regarding personal computer sales, we have been developing specialty stores since 1990, before the spread of personal computers. Initially it was in the red, but it has grown rapidly since the launch of Windows 95 in 1995, and the current industry share of digital-related products is over 30%.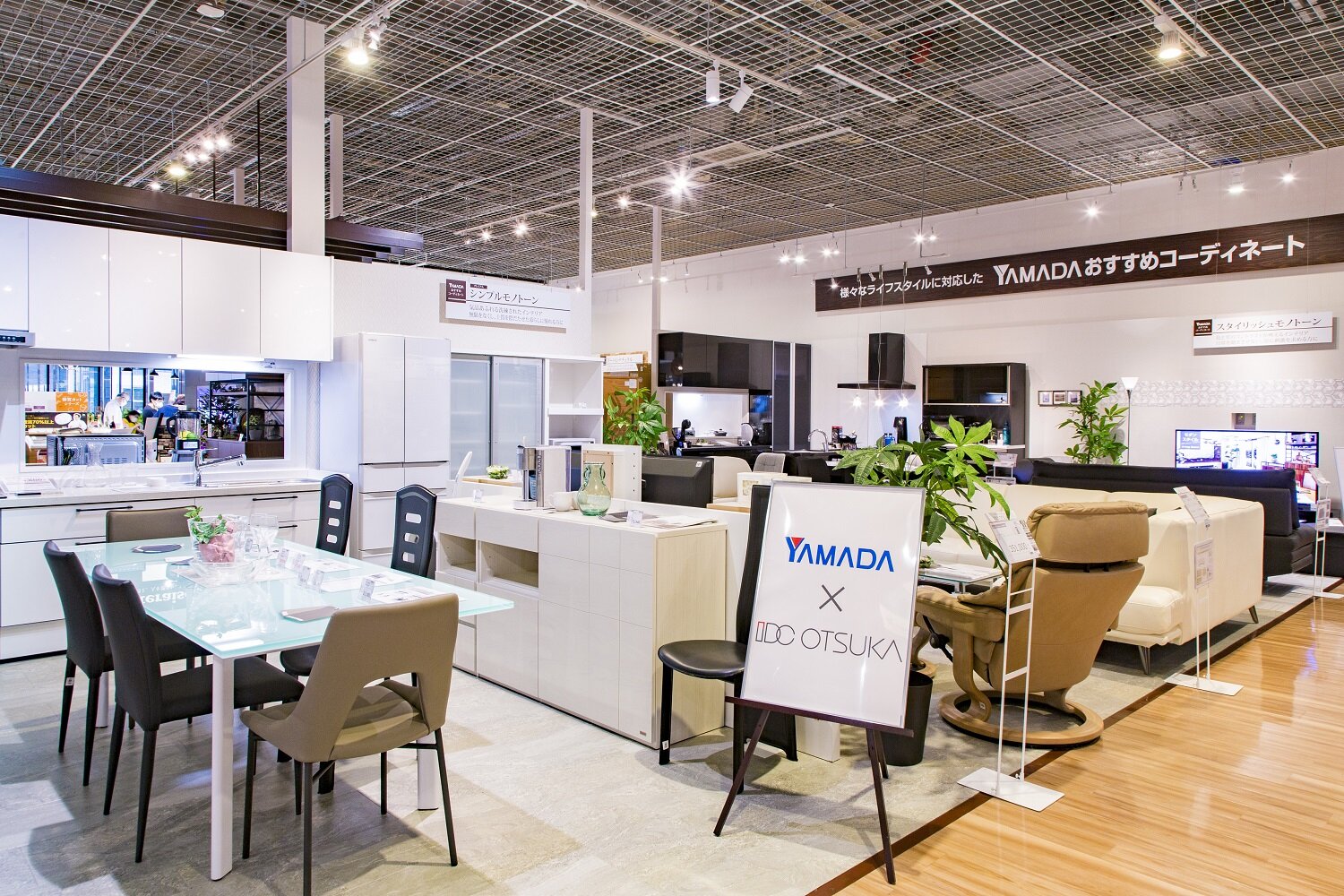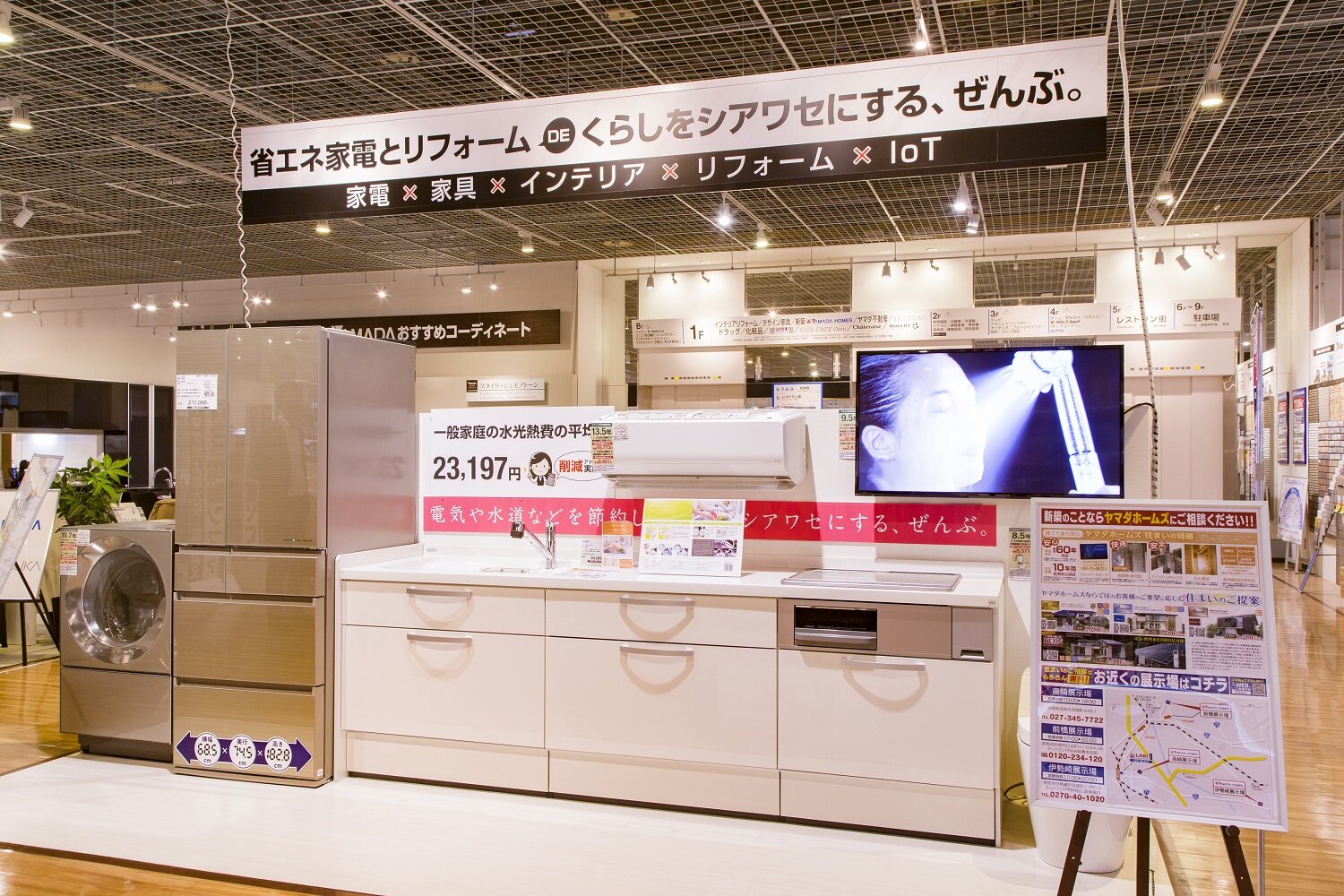 Inside the "LABI1 LIFE SELECT Takasaki" store in front of Takasaki Station, where the head office is located

-The Great East Japan Earthquake has led to your current business. By the way, how much was the impact of the recent corona shock?
Urban stores are struggling, but local performance is growing. As the number of people staying at home has increased, the need to make their lives more comfortable has increased, and as a result of not spending money on eating out and leisure, all household appliances are selling well.
Since we couldn't encourage customers to come to the store, sales promotion costs were reduced to less than 50% of the average year, and labor costs were also reduced by shortening business hours. On the other hand, sales are increasing, so you noticed that there were many parts that should be reviewed on a regular basis. There are many things that have been taught in Corona.

-It's amazing that you can turn a pinch into an opportunity, seize success, and continue to do so. Did Chairman Yamada start the company with the intention of aiming to be the top in the industry from the beginning?
When I was taken care of by Mr. JAFCO, I was desperate for what was in front of me, and I think I didn't think so much. But in a business model like ours, the key to scale benefits is scale benefits. As long as you sell the same products as your competitors, selling 10 units rather than 1 unit and 100 units rather than 10 units will reduce costs and include rebates, resulting in higher gross profit. Therefore, they must have been conscious of increasing "share" rather than "sales".
Being at the top has the benefit of survivors due to the conflicting and withdrawal of lower-ranking competitors, and can be the price leader in the market. If consumers have the image that "Yamada is cheap," we can create a state where people can visit us without doing anything, so I think it is of great significance to remain at the top.

-What kind of relationship have you had with JAFCO since then?
We will continue to work with you even after listing, such as introducing companies that will be business partners. As our partners, early stage startups often match, for example, we asked the startups for the face recognition payment system introduced by Corona. I hope I can continue to have a long-term relationship with JAFCO in various ways.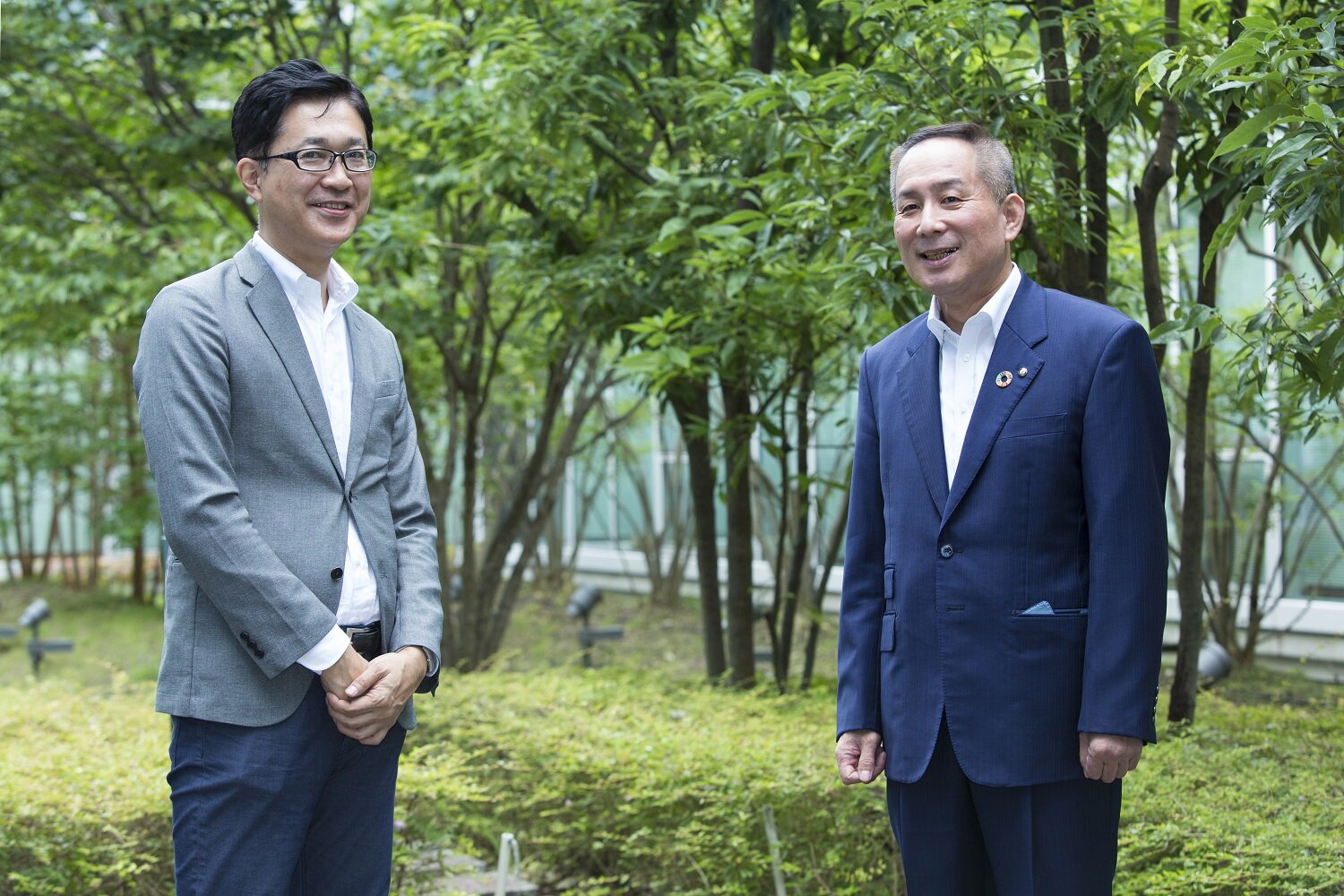 Mr. Okamoto and Masato Kikuchi (left), the capitalist in charge of JAFCO

-Thank you. Finally, do you have a message for entrepreneurs who are aiming to expand their business?
It has been a difficult time due to the influence of Corona, but I would like you to always remember the "venture spirit". Our management philosophy is also "creation and challenge". The mind is always a venture. We are always thinking about new challenges such as the development of "YAMADA web.com store" that links the Internet and stores, "Household appliances living hall" and "Outlet hall", and environmental business such as converting waste plastic to electricity. I hope that you will not be content with the successful experience and continue to think about how to improve your business.