The "JAFCO HR Committee" started in January 2021. Members involved in HR strategy at JAFCO's investee companies bring their own themes they want to talk about and discuss them online. We will share the worries and knowledge about HR at startups and disseminate real knowledge of the site.
The sixth theme is "Expected Roles for Middle Management". In group discussions, we shared the situation of each company, such as how each company is hiring, discovering, and training managers.

[Profile] (honorific title omitted)
By discussion team <A>
<JAFCO Investee HR Manager>
OLTA Inc. VP of HR Kazuki Karasawa (Karasawa / Kazunori)
After graduating from the Department of Economics, Faculty of Economics, Shinshu University, he was in charge of personnel affairs and launching new businesses at Recruit Staffing Co., Ltd., and then experienced personnel affairs at Square Enix Co., Ltd. Responsible for recruitment, labor, system construction, MVV penetration, etc. as tech startup personnel.

ACALL Inc. HR General Manager Teppei Sato
After graduating from Keio University Faculty of Commerce, joined Fuji Bank (currently Mizuho Bank). Engaged in corporate sales in Tokyo and Osaka. After working at a consulting company, became a recruiting executive agent. Engaged in introducing human resources for management. After that, he changed to personnel affairs. Experienced Head of Talent Acquisition at KPMG Consulting and Tata Consultancy Services Japan.

Zeals Co., Ltd. Satoshi Sasahara
After graduating from the Faculty of Commerce at Hitotsubashi University, he held important positions in a wide range of business fields such as sales, new business development, engineering, solution development, and management at overseas bases at one of Japan's leading mega-ventures such as Recruit, Works Applications, and AbemaTV. Participated in Zeals since August of the year. At Zeals, after working in charge of product development from the business department, he is currently engaged in creating an organization and culture that will accelerate business growth as a person in charge of human resources.
<Facilitator>
JAFCO Group Co., Ltd. Minoru Doke
Engaged in investment business for 20 years at JAFCO. Since 2014, he has been in charge of sales support and recruitment support to increase the corporate value of investees. For about three years on the way, we devoted ourselves to hiring specific investment destinations, and hired a wide range of 90 people, mainly engineers, from the sales and Administration Division. Currently, he is engaged in general personnel business support centered on recruitment support for multiple investment destinations.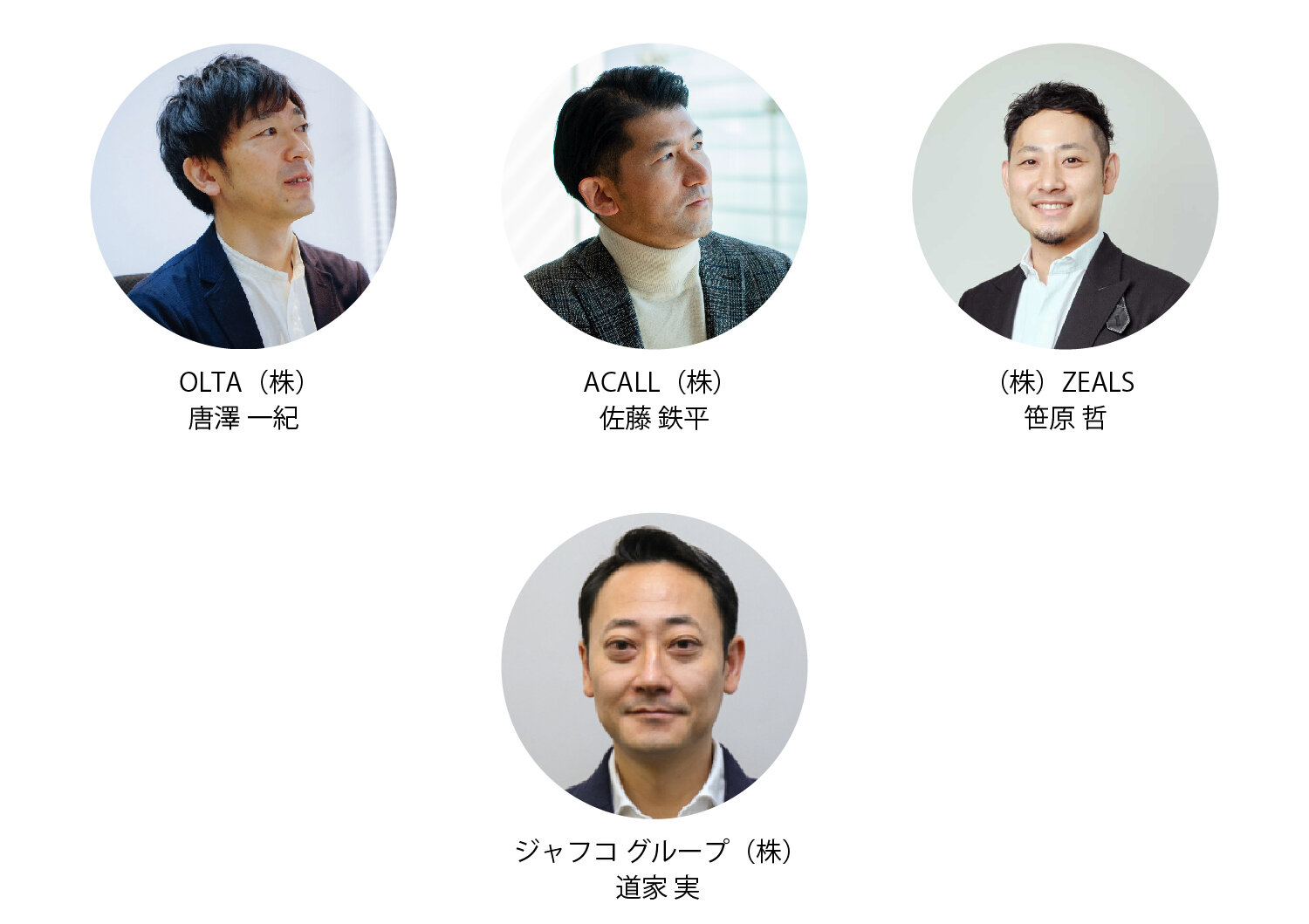 By discussion team <B>
<JAFCO Investee HR Manager>

Hideyuki Takahashi, HR Team Manager, Corporate Division, Baseconnect Inc.
After working for a major consumer goods manufacturer, mega venture and consulting company, he joined the HR Tech startup in his previous job in 2014. While working on the organizational development of the company, he supports the organizational development of many companies as a customer success manager. Participated in Baseconnect in 2020. As a manager of the corporate division HR team, he oversees recruitment, system design and MVV promotion.

Toru Hasegawa, General Manager, Human Resources and General Affairs Department, Corporate Headquarters Unifa Inc.
After experiencing personnel consulting mainly in the fields of education and training at a consulting firm, he turned to a comprehensive entertainment company. After being in charge of new business and venture investment, he became a director of the management headquarters at a subsidiary that handles BPO business centered on call centers. Unifa Inc. after having a child. He also serves as a lecturer at the Graduate School of Business Design, Rikkyo University.

Synspective Inc. Shiba
Completed the master's course at the Department of Urban Social Engineering, Graduate School of Engineering, Kyoto University. Since 2014, he has participated in a startup engaged in the human resources business, engaged in human resources recruitment consulting and media business. After planning a business at WASSHA Inc. in 2015, he turned to an engineer and was stationed in Tanzania. Leading in software development and business operation improvement. Joined Synspective in its founding period as an engineer for satellite imagery solution development from 2018. Currently, he is mainly in charge of human resources recruitment and organizational development.

<Facilitator>
JAFCO Group Co., Ltd. Shintaro Kanazawa (Kanazawa Shintaro)
Joined Works Applications Co., Ltd. Participated in Egg Forward in 2017. As an executive officer, he has been working on organizational issues and human resources issues in many companies. Currently at JAFCO, engaged in startup organization and human resource development support in order to increase the value of investment destinations.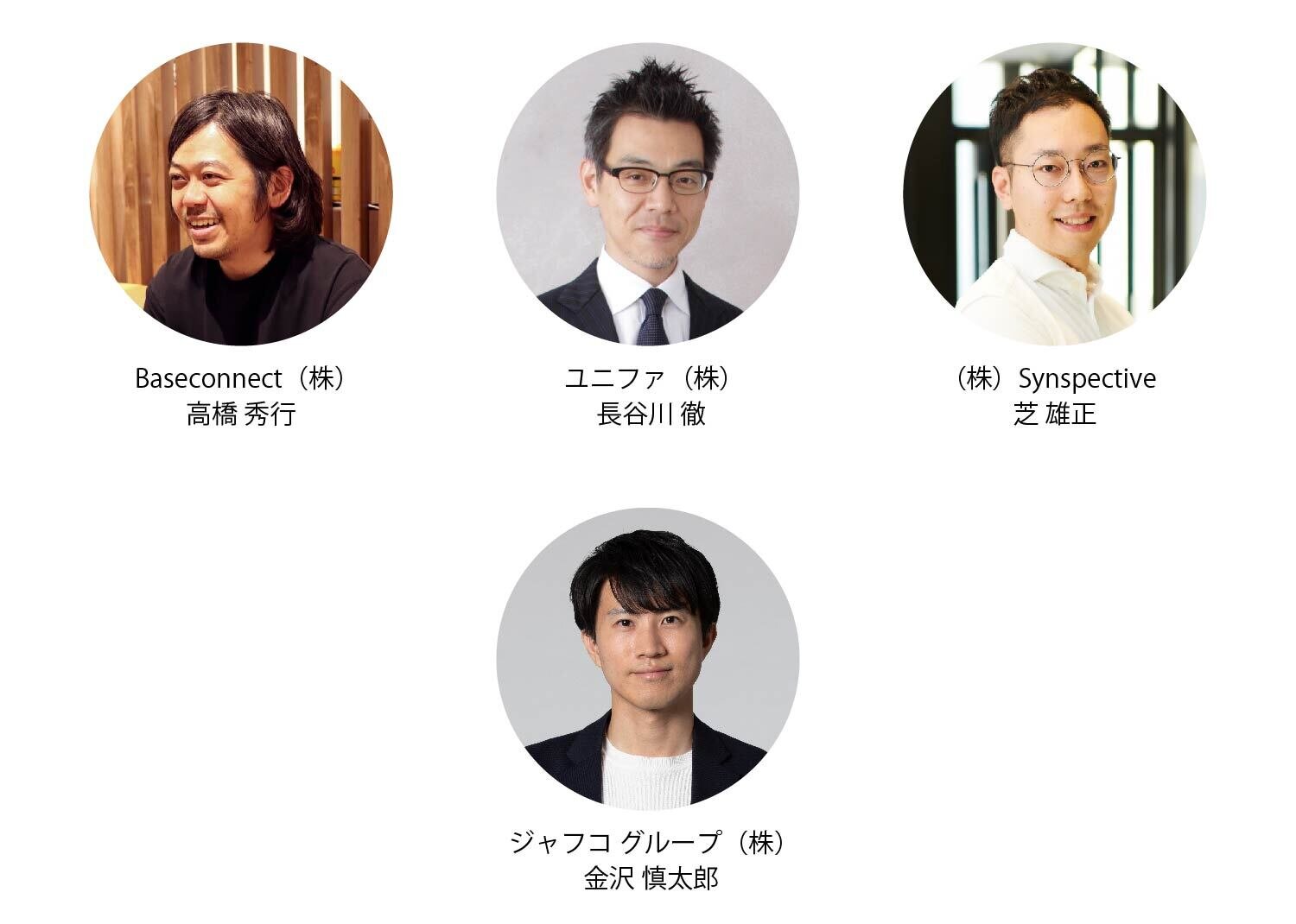 Team A [OLTA x ZEALS x ACALL & JAFCO]
Michiya management is a profound theme that greatly affects human performance. First of all, please tell us what you think about the role you expect from middle management at each company.

At Karasawa OLTA, middle managers are required to be in charge of on-site execution and as professionals to be more detailed in their occupational areas than management and to produce results on-site. It is also important to be able to translate the information that comes down from the management and convey it to the site, face the site from a management perspective, and explain it when making decisions.

Sasabaru "Making achievements" is a high priority for the role of a manager. Outcomes are an important factor in moving an organization's condition for the better, so achieving results is fundamental to managing a team. Also, since it is more important to "invent" than to protect, the manager is conscious of creating a new mechanism.
At our company, it is natural to create a "slogan" in the strategy, but we also value the verbalization of the message that pulls the team that reflects the management perspective as one of the roles of the manager.

Karasawa OLTA also sets annual goals for each organization, which may be similar. As a company, we have a business plan that we aim for in one year, and we send out what each organization will work on as a phrase.

There are three expected manager roles at Sato ACALL. (1) Discussion partner with management, (2) Chew the CEO message in your own words and convey it to your department, (3) Organizational design (member evaluation) of the department in charge.
The organization consists of three layers: general manager (GM), manager, and members. GM sees 25 members each in the sales organization and the engineer organization, and is in the stage of gradually hiring and training middle-class managers. Since this is a phase in which "management personnel" are required for business expansion, we would like managers to move with ownership according to the succession plans created by each department. I think it is also an important role to convey the highly abstract message of the top to the members in their own words.

How are you working on recruiting, discovering, and training Michiya management?

Sato: You have to cut various "cards" according to the combination and timing.
In mid-career hiring, there are naturally different expectations for those hired as managers and those hired in the member class. In some cases, even if you want to be promoted from an existing member, the growth of the existing member cannot keep up with the business speed and you have to enter from outside.
However, the impact of not being able to play an active role after joining the company is great, and I feel the responsibility of the company. It's difficult because it says, "In that case, I should have been promoted from an existing member."
Therefore, what I think is the future HR theme is "cultivation".
It is a very lucky case to hire the perfect person to take care of the site. Therefore, in order to focus on training, we recently institutionalized a "promotion test" for training managers. By clearly stating "promotion guidelines" and "what you want from a manager", you can now judge promotion based on criteria that do not rely on your senses. Even if the members who took the exam fail, the management side clearly communicates "what is sufficient and what is the problem after that" and encourages the next challenge, which is a "part of training". I'm out.
Hiring is important, but it is the role of management to make adjustments after joining the company. We will also implement a training plan that takes time, such as looking at it as an "assistant manager (manager candidate)" for 6 months before appointing a manager.

唐澤 なるほど。採用の観点で考えると、マネージャー職でオファーを出した方が優秀な人材を採りやすいケースもあると思うのですが、「候補」で採用していますか?

Sato: We look at urgency and importance. You have to think about the risk of not fitting after hiring. From past experience, there was a case that "I should have given our material and asked how to improve business performance ...", so in the recent selection, while giving a presentation, the time axis (first) We ask them to talk about "how to make sales" and "how to make an organization" including "what to do in 100 days" and "how to utilize human resources".

Karasawa I understand. Not only at our company, but also at startups, the urgency of what we want them to do is high, and we also want them to be able to face change and move on their own, so I think it is difficult to hire them on the premise of raising them. Therefore, we are spending a lot of time and power on hiring, aiming to hire people who are ready to work and have high autonomy.
In the selection process, people with a certain level of role, such as management, are asked to participate in discussions on agenda items that are close to the business team. For example, if you are a manager, you will be responsible for designing organizational goals, so we ask you to join a one- or two-hour meeting about what you should work on, and look at your thinking and value fit there. Since we will tell you the issues and current situation of the company in a real way, the resolution for the person will also increase. If you can have a good discussion here, it will be easier to have a sense of security in your performance after hiring.
After all, hiring management is a prerequisite for hiring immediate work force, so the company does not put much effort into training and training on management skills. As for the role to be sought, there is a standard that "I want to seek this far if it is this grade", and although I am creating opportunities for reflection and growth through individual goal setting and 1on1 FB, the efforts to teach patterns in manager training are not so powerful. The current situation is that we do not include.

Sasahara At our company, we are particular about making decisions on matters other than "conditions" such as annual income at the time of hiring.
It is important not to hire only skills and careers, but to empathize with and be prepared for the company's vision and business domain. No matter how much management skill you have, no one will be left to make decisions by comparing "conditions" with the final competitor. It is important for us to make the decision to join the company because we want to do it.

Michiya: You are particular about the presentation conditions so that you do not make the decision to enter because the conditions are good. Does that work in terms of performance after joining the company?

Sasahara That's right. I think I'm working. I'm talking about the fact that it will bounce back firmly depending on the performance. In fact, you will get results right after joining the company! That's amazing.
At the same time, we are also politely advancing onboarding. For example, members involved in the business management layer will connect with Keyman 1on1 from two months before joining the company, and if it is the management layer, they will be involved in the necessary meetings from one month before joining the company. When you join the company, create a foundation that you can play an active role immediately.

Karasawa: If you focus on hiring other than the conditions, you may not be able to make a decision due to concerns about your annual income, and it may be difficult for you to utilize a career change agent. I think there are a lot of hires, but how do you handle it?

Sasahara: We hire more than 100 people a year, 40% of agents, 40% of scouts, and 20% of referrals.
It is true that agents are disadvantageous in terms of conditions, but we have our core agents guarantee a minimum fee and communicate individually. I have a strong sense that I have grown up with an agent to deepen our understanding.
In addition, we also sort out the job offers that we request according to the strengths of each agent, so that human resources with a mixture of boulders are not introduced.

Karasawa: You've been focusing on agent relations. I will study a lot.

Sasahara On the other hand, we are thinking of changing the above recruitment strategy depending on the business phase. If it is a business that has a certain amount of sales, we are not particular about negotiations in terms of conditions, but if it is an organization or business that we are making right now, we do not know what will happen in the future, we will sympathize with the vision and change the industry. You need to be prepared. I think it's a condition for asking how you can commit.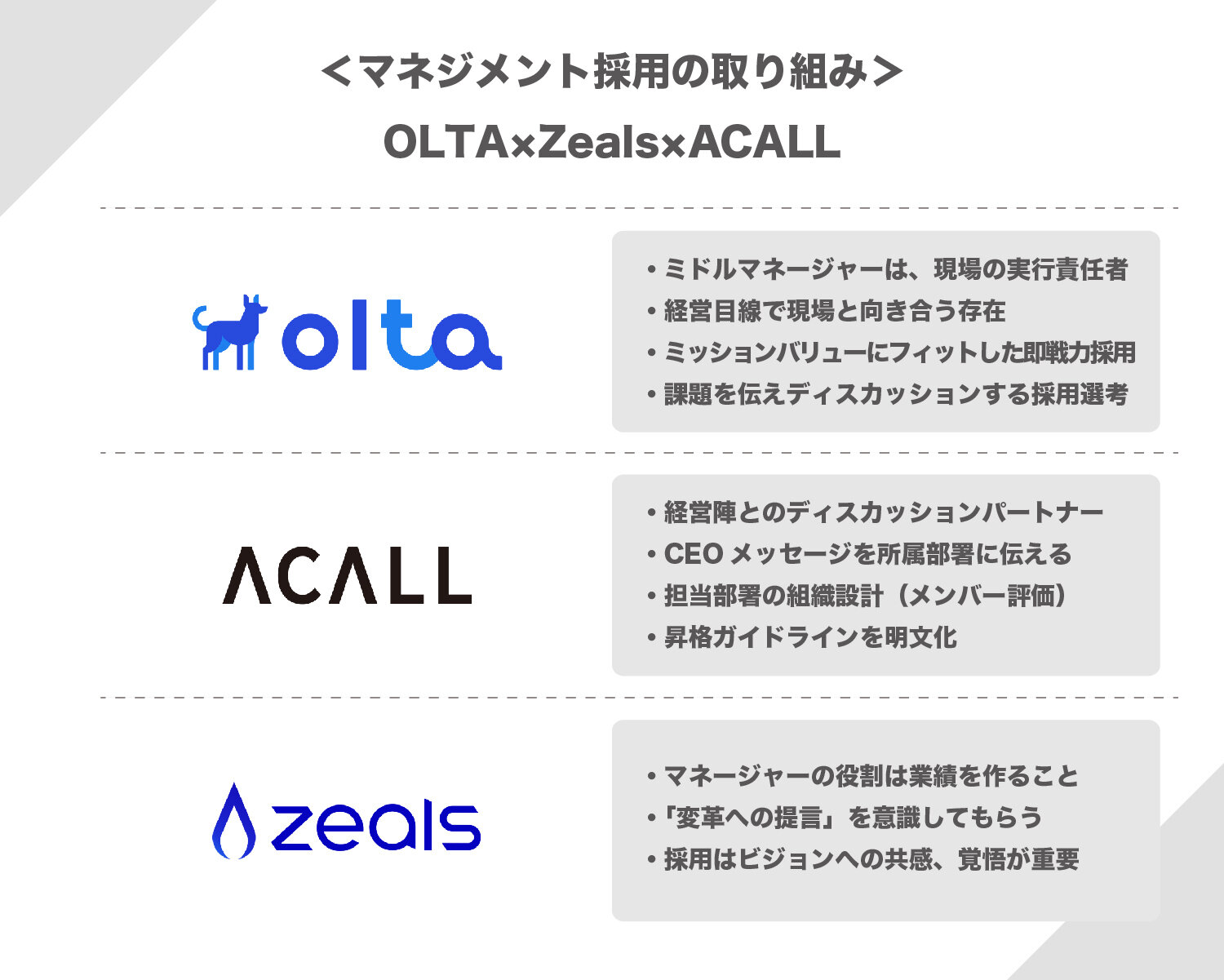 Team B [Unifa x Baseconnect x Synspective & JAFCO]
Please tell us your thoughts on the expected role of Kanazawa Management.

Hasegawa UniFa focuses on "penetration of Purpose Value".
We have reached the 9th term as a startup, and now we have 200 people including those involved in the company. I think it is important to deepen the common understanding of employees' purpose values and to align their focus so that they can make the same decisions as management on the spot.
I think it is important for us to come up with various opinions on the basis of a common foundation that "our company will make this kind of decision" when something to be discussed arises.

Takahashi Baseconnect is an organization with more than 200 people including part-time jobs, but since we have been operating an autonomous and decentralized flat organization, we are gradually starting to adopt the concept of a manager for each team. The representative wants to create action guidelines and management guides in detail as soon as possible to standardize the management ability of the organization, but on the contrary, I am saying that it is "still early".
The effective management style changes for each functional team such as engineer and sales, and even for the same team, if the growth phase and members change, the effective style will continue to change. It is better to solidify the unified definition of manager across teams as a company, and now it is individual optimization that any style is acceptable as long as the team's results are maximized, and the manager's character is emphasized. I think that the style of is more effective.
当社は、目的合理性を重視し、細かい部分まで徹底議論をする文化があるので、価値観だけでなく、思考力や資料作成などのベーシックスキルが重視されます。しばらくはマネージャーにも、プレーヤーとしての実務能力が必須要件として求められるので、ピープルマネジメントだけがどんなに優れていても、所属チームの実務へのスキルフィットができていないと、成果を出しにくいですね。行動指針にも姿勢だけでなく基礎スキルに近いものが多く規定されています。

Shiba Synspective has about 110 employees and about 15 managers. The roles we are looking for are team goal setting and progress management for goals, support for member goal setting and evaluation, and skill / specialty development support. In addition, although it is not set as a role, the transmission and embodiment of culture also involves the manager as an in-house project.
Originally, I wasn't very conscious of bridging the role of manager with management. In addition, we are basically working as a playing manager and have a team structure with different specialties, and we are conscious of a flat organization throughout the company. Since the specialized areas covered by the entire organization are diverse, top-down management is difficult even for each manager, and I think that there are organizational characteristics in which self-management of members is also important.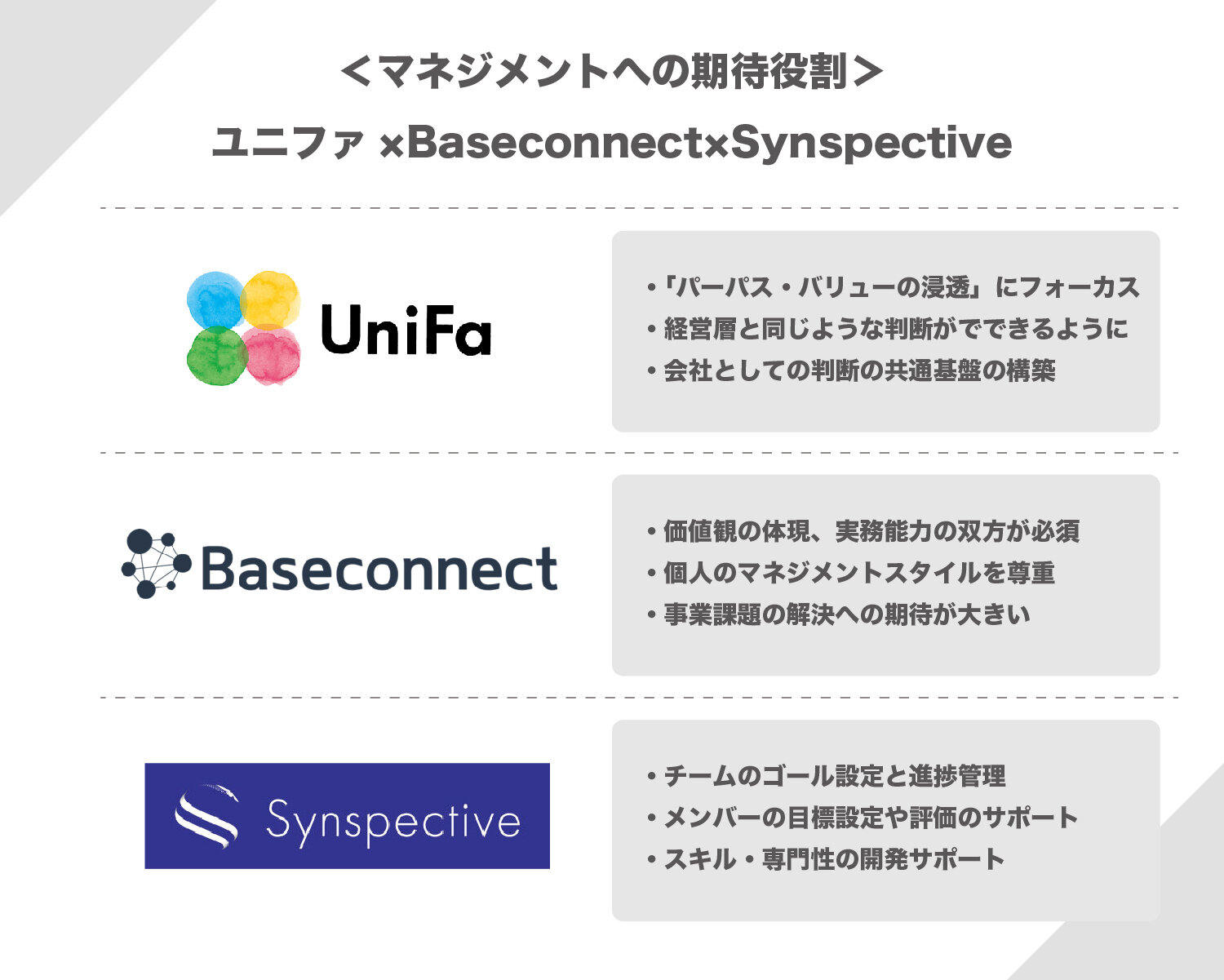 Kanazawa What factors do you think the expected role of middle management emphasizes its function?

Hasegawa It's the progress of the business and the corporate stage. We are now in a phase like the second founding period, where we are trying to strengthen our system and further improve our service usage record. We are also promoting the provision of new services, and I think it is necessary to have a sense of unity in the future image that the representative thinks, what he wants to achieve, and the judgment of the site.

Takahashi In this phase, we are thinking about business issues and organizational conditions at a ratio of about 8: 2.
If the business is going well, the organizational condition will not be the only thing that will go wrong, so I think we should concentrate on the business. Therefore, when I feel that only the organizational condition is getting worse, I try to recognize it as a sign that the business will be affected in the medium term.

Shiba At our company, the organizational condition will improve if we can achieve good performance in terms of target sales and development. However, it is difficult to follow the picture drawn by the management because it is constantly changing, including the external environment. The degree of freedom in decision-making at the site is important.

Kanazawa: How are you hiring, discovering, and training human resources?

Hasegawa On the premise that we don't always know if past experience will be useful, we emphasize the degree of matching of Purpose Value in hiring. The number of people involved in the company is 200, but the current situation is that the excavation has not been completed yet. We are actively assigning to new projects, but there are still variations in the penetration of purpose values in middle management, so I think it will be difficult if we do not first promote sharing of overall values and raising the level.

Takahashi is hired as a start from the manager "candidate". In terms of organizational design, we are also focusing on hiring candidates for managers so that only players do not increase, but on the other hand, it is difficult for people around us to trust us unless we are people who can achieve certain results as players.
If you don't try management, you may not really know whether it is appropriate or whether you want to do it as a person. I'm trying to find someone who has experience, aptitude, and WILL, but it's quite difficult.

In some cases, I was not hired as a turf candidate, but I appointed him as a manager after joining the company. It's difficult to adopt it that way with reproducibility. Since mid-career recruitment has different experiences, I think it is important to flexibly provide training support according to individual issues.
In finding managers, HR sends out information so that the top of the department can take the initiative in thinking.
Since we have about 100 employees, we can still see the whole thing, and it may be that we are proceeding by preventing dissociation while communicating with the top management in the field.

Kanazawa I think there are times when management is necessary for various reasons, such as the scale of the business growing or people suddenly quitting. At that time, how do you decide whether to hire externally or promote internally?

Takahashi If it's the case like the reason you mentioned, we will adopt it from the outside.
If the need for management to be introduced from the outside is recognized within the company, there will be no psychological resistance of existing members, and it will be possible to get used to it smoothly, including human relationships, so even if it is added from the outside, it will work properly. Communication with the field is important, isn't it?

Shiba: It depends on the background that people need, whether to set up a manager with the current organizational structure and the flow of business growth, or whether to make major changes to the team policy. If the former, we will excavate in-house, and if there is no option, we will proceed to external recruitment. If the latter, select external recruitment.

Hasegawa Our company has three levels: members, section chiefs, and department managers when the number of employees exceeds 100. When deciding on the position of general manager, we not only pulled up from the inside but also promoted external recruitment. Since it is a startup, the growth speed of the individual is not always the same as the growth speed of the company, so we are proceeding while balancing with internal excavation and external recruitment.


After the discussion of the two teams ...
Kanazawa It was interesting that each company's opinions differed, such as what factors defined the management role. There was an opinion that the translation function is important for the management layer, and that the manager should do what he wants to do ..., and I realized again that the required content differs depending on the organizational variables.
I think that the discussions went in various directions because the management style changes depending on the business phase. We hope that the discussion will lead to hints for everyone in the future. Thank you again for today.