Don't you think that "IPO preparation should start from the last two years"? Certainly, full-scale preparations such as contracts with audit corporations and securities companies are generally started from that time, but from the seed early period before that, there are preparations to be made to build a back office system. ..
The theme of this series, which will start from this time, is a back office design strategy to facilitate IPO preparations and realize cost reduction. For the first time, Hiroki Setoyama of JAFCO Group Co., Ltd. will talk about the pitfalls of IPO preparation that many startups tend to fall into.

【profile】
Hiroki Setoyama Business Development Division JAFCO Group Co., Ltd. Joined Ernst & Young ShinNihon Audit Corporation (currently EY Shinnihon Limited Liability Audit Corporation) in December​ ​2007. He has experience of being seconded to the listing examination department of the Tokyo Stock Exchange, and at EY Shinnihon Limited Liability Audit Corporation, he is engaged not only in audit work but also in quality control work related to IPO work at the Corporate Growth Support Center (IPO control department). Joined JAFCO Group Co., Ltd. from November​ ​2020.

​

60

to

70

% of companies aiming for an IPO have difficulty in the back office system! ??
-Please tell us about the problems that startups preparing for IPO are actually facing.
When the preparation for the Setoyama IPO begins in earnest, there will be a lot of work to be done, and one of the tasks is to create disclosure documents. If the application period is N, the immediately preceding period is N-1, the immediately preceding period is N-2, and the immediately preceding period is N-3, accounting audits will be started in N-2 and the financial results will be calculated. In addition to closing the items in a timely and appropriate manner, it is necessary to start preparing listing application documents such as the so-called Part I in the N-1 period. However, this part I is not easy to create. This is because the disclosure content is wide-ranging, and a large number of items must be disclosed regarding accounting information, and the content is also specialized.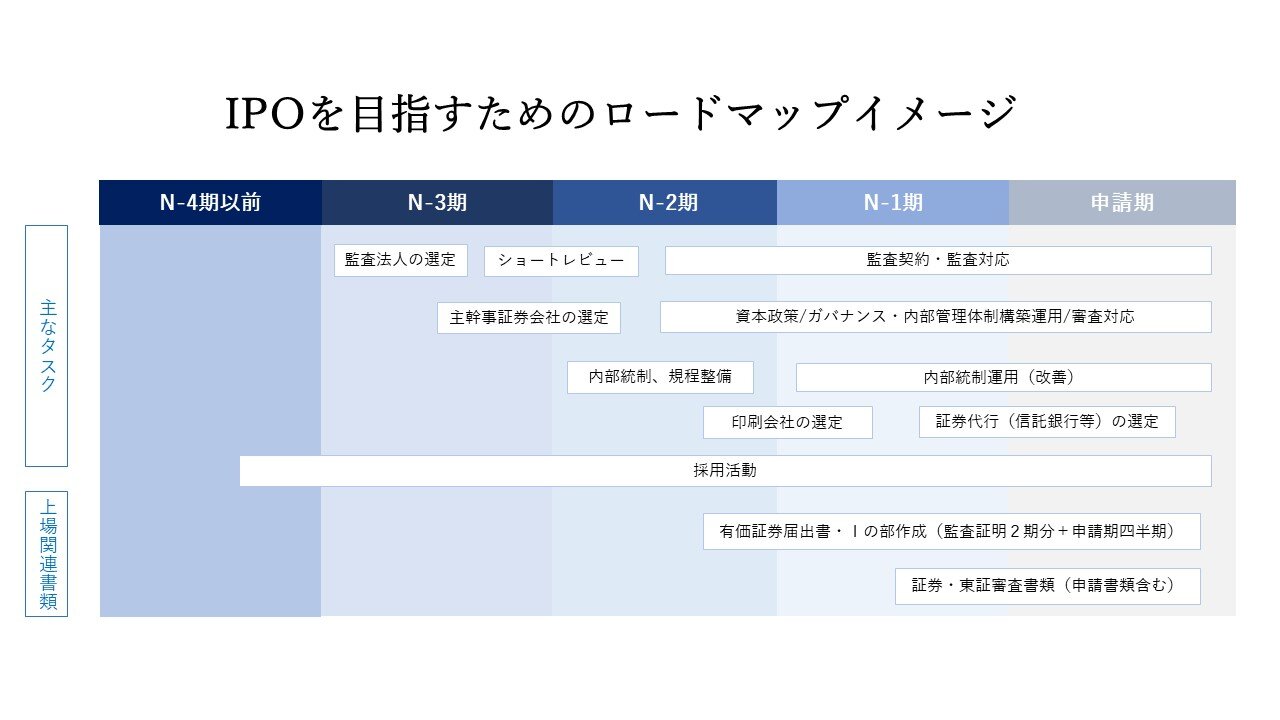 A common case these days is that the settlement work for the N-1 period was significantly delayed and the disclosure materials could not be prepared by the due date. As a result, it was judged that the settlement and disclosure system was inadequate, and there were cases where the listing was postponed without issuing an audit report. In addition, even if the listing was not postponed, unexpected costs were incurred during the application period and the cost increased because the lead managing underwriter and the audit corporation requested to strengthen the back office system and hired personnel and made a consulting contract. There is also an example that has been done. In the worst case, it will affect the valuation at the time of listing.

-Where is the root cause of those cases?
Setoyama There are various causes, but one of the root causes is that business processes are partially optimized for each department, and overall optimization up to accounting is not planned. Since data such as sales and expenses cannot be centrally managed, it is not possible for accounting to grasp the information that should be grasped in a timely manner, and it is not possible to accelerate the monthly and final settlement of accounts and improve the accuracy. In particular, regarding sales data, there are often cases where there is a difference between the data grasped by the sales side and the data grasped by the accounting side.
From my point of view, 60 to 70 % of the companies that invest in the company feel that it would be easier to prepare for an IPO if the back office system had been in place for some time. Everyone will switch on when the listing is visible in the N-2 period, but there is a lot of other work to be done at that time, and the already partially optimized business processes are seamlessly linked at that point. It's not easy to get it done.

-The construction of a back office that is not a profit center tends to be delayed, but when is the ideal time to start?
Setoyama Seed early period, if possible, from the time of establishment. If you start from the phase where the number of transactions and the number of employees is small, the cost of introducing the system and the cost of explaining to the parties concerned at the time of introduction can be reduced. In recent years, it has become important to design business processes while using such tools, as it is possible to easily introduce systems with inexpensive cloud services that are pay-as-you-go.
However, what I would like to convey here is not that it is necessary to implement internal control-conscious business processes and system design from the seed-early period, but business processes and system design that match the size and phase of the company. It is important to carry out. For example, in an easy-to-understand example, if you are an s organization with 2 or 3 founding members, problems such as unpaid overtime will not occur, so it is necessary to prepare all payroll and attendance systems at that stage. There is no. First, put in an accounting and expense reimbursement system to create a habit of closing expenses in a timely manner. For example, if the number of employees is 10 or more and manual input management becomes complicated, an attendance system will be installed, and this system and this system will be linked by API. I think it's quite different just by itself. Again, since cloud-based ERP packages can be used at low cost these days, it is possible to introduce cloud-based ERP packages that have all the necessary functions for the company in consideration of costs. ..

Back office is an indispensable foundation to support corporate activities
-Did you have any feelings about startup IPO preparations from the standpoint of being involved in audit work at an audit corporation?
Setoyama In recent years, the resource shortage of audit corporations has become serious, and the so-called "audit refugee" problem has been called out. A company that has been able to properly build an internal control system from the early stages of the N-3 period is easy to contract as an audit corporation, so it can be said to be one of the secrets to smooth auditing.

―シード・アーリー期からバックオフィス体制を構築する意義を、起業家の皆様へのメッセージとして改めていただけますか。
The Setoyama back office is not a so-called profit center, but it is an indispensable foundation that supports corporate activities. By designing the back office with overall optimization in mind, it becomes possible to "examine" corporate activities such as product development, organizational design, marketing and sales in a timely manner. Having such a foundation from the seed-early period will not only facilitate IPO preparations, but will also reduce total costs. Above all, timely examination of corporate activities will lead to the growth of the company, so I would like you to actively work on it as one of the most important management issues.

From the next time onward, we plan to introduce specific solutions with examples of investee companies. I joined JAFCO from an audit corporation and my position has changed, but my desire to contribute to startups remains within me. We will send you useful information, so please refer to it.