Entrepreneurship Education A series of entrepreneurial "failure studies" focusing on "failure" based on papers and cases related to entrepreneurship, together with Babson College, the No. 1 in the United States. This time, we will consider "copying" of the business model from various cases.
I think many people think that innovation requires a unique positioning. Many people may find it awkward to start a service later. "It's the same model that other companies are doing, right?" Have you ever given such feedback to friends and colleagues who are thinking about starting a business or starting a new business?
However, it is not uncommon for a "copy" to be the beginning of an innovative business model or a fast-growing service. In addition, many entrepreneurs and artists who have been called "creative" and "genius" have actually cultivated their imagination through copying. If you think of copying as negative, it may lead to a "failure" that misses the opportunity for your business to grow.
This time, we will consider based on the actual successful case of "copying".

Picasso, Disney, Jobs
...

they were all "copy geniuses"

"Good artists copy, great artists steal."

This is Picasso's word. "A good artist simply copies the art of others. A good artist means "selectively retrieve (stealing) elements from multiple sources and creatively combine their influences to create something unique." If you look at Picasso's work, you can see that it incorporates various elements from African art to Japanese ukiyo-e, and as a preparatory step to incorporating the elements, for example, I copied the painting of Katsushika Hokusai. It is also known that Shakespeare's famous love dramas and early Disney works are, in fact, overwhelmingly based on the stories of fairy tales that have been handed down in the region.

Apple founder Steve Jobs also says, "Great people understand great things at a deeper level and work on them to build and develop even better things." "It's Apple 's DNA to break the line between copying and plagiarizing ideas," he said. A well-known example of Apple's copy is the tablet. In fact, about 10 years before Apple, Toshiba and others had already started manufacturing tablet devices. It is said that Apple 's iPad team imitated the concept of the tablet as it was, and then envisioned a slim and easy-to-use shape that is typical of Apple.

Copy typeteeth

3

pattern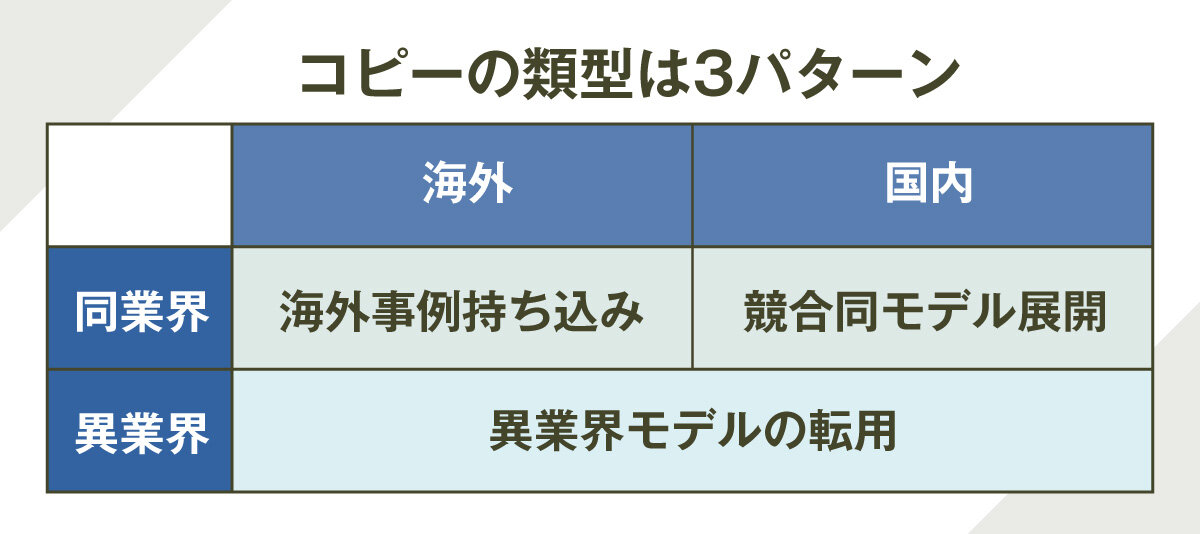 As shown in the above figure, there are 3 patterns of copying the business model. We will deepen each while looking at specific examples.

Bringing in models from overseas cases
There are many successful cases of bringing models that have already been successful overseas into Japan.
For example, crowdfunding is now common in Japan. In the United States, multiple players such as KickStarter and GoFundMe have emerged around 2010 for both the donation type represented by READY FOR and the purchase type represented by Makuake. WealthNavi, a robo-advisor, has already succeeded in raising large-scale funds in the asset formation robo-advisor market in the United States, including Betterment and WealthFront, around 2016 when the service was launched.
In addition, the job seeker billing type job change site that Visional (formerly BizReach) first launched in Japan in 2009 was launched in the United States in 2003 by a company called Ladders. In addition to incorporating direct recruiting, which has already begun to become popular, at the time of service launch, we succeeded in holding a pink slip party (a relatively major scout hunting party in the United States) that was not in the past in Japan and attracting attention. It has been successful to successfully incorporate overseas cases from business development to PR.
In addition, Bubble, a leading company in this area of the United States, has already launched the service in 2012 for the development of no-code apps such as Yappli, which was recently listed in December​ ​2020.
On the other hand, some may find it difficult to research foreign markets due to language and geographic issues. In addition, there are many overseas businesses that have failed to enter the Japanese market in the past, so it is of course very important to adapt to Japanese culture and business practices.
However, it is clear that there are many new models overseas that do not exist in Japan. And, as you can see from the case studies, it can be said that there are many models that have been introduced to Japan since the service started more than 5 years ago and have already hit overseas. This means that the probability of success is higher than that of a completely new idea.
Rather than continuing to research in Japanese, why not take a look at overseas sites even with the translation function? And before deciding that this cannot be deployed in Japan, think about which points will be incorporated.

Deployment from the same model as the competition
Zensho Holdings, a fast food chain that develops Sukiya, was often seen as the second brew of the Yoshinoya, but as a result, sales will be about 1.5 times that of Yoshinoya Holdings in 2020, and about twice that after Corona. Has come to be attached. In an industry where price competition is fierce, the Yoshinoya was particular about keeping prices unchanged, while the Sukiya was flexible, such as raising the price of a large amount of money even though it was left unchanged, and introducing new and limited-time menus every month. It can be said that this is the result of successful strategic changes.
Of course it is very important to be the first player to get the first-mover advantage. However, continuing to pursue the originality of being the first is not always the winner. The important thing is to respond quickly to what the customer wants, and to think about the organizational and business strategies to realize it.
In fact, Trader Joe's, a very popular supermarket in the United States, was initially just a local liquor store selling beer and snacks. From there, we developed frozen foods while grasping the needs of our customers, and we have reached the present form.
Even with the exact same model, there are many points that can be changed from there. If you think that the solution to the problem you want to solve or the customer needs you want to meet is the best now, copy it first and start. From there, I think we should explore the points to focus on and opportunities that are not yet available in existing services, whether it is quantity, quality, speed, or marketing.

Diverting the structure of different industries
In fact, Ford's mass production was inspired by a meat processing plant. The Apple Store Genius Bar is said to have come up with an idea from the concierge desk at a five-star hotel. The subscription model, which has become popular in recent years, is virtually the same as the mechanism that has existed for decades, such as newspaper purchasing, and has been used in other industries since it became one of the standard models for Internet services. It has been Rakuten Bus also brings to the bus the mechanism of hotel revenue management and price fluctuations during busy and off-seasons. Based on this, Rakuten also provided marketing support to local bus companies, and in the sense that it supported the entry of bus companies, it makes good use of the Rakuten EC consultant model, which is the basis.
In addition, the fact that the sharing economy started from Uber and expanded to private lodging services such as Airbnb, car sharing services, etc. worldwide, and that it is spreading to other industries is also new to my memory. I think not. All of these are diversions of models that have been successful in different industries.
The points that you find useful, the services that resonate with your customers, and the essence of them are not necessarily industry- or service-specific. Understanding its essence, changing the world of copying and pasting, may create value for new customers.

Copy is the starting point of creativity
I think there are many Japanese who have been critical of Chinese companies that frequently utilize copy strategies, from business to characters. However, the scale and growth rate of the Chinese economy is now unmatched by that of Japan.
If you think about it, copying is not easy either. For example, "Meituan dianping", which was created by copying the good aspects of all coupon sites centered on Groupon, has now grown to a market capitalization of 7 trillion yen. This was only possible with a thorough analysis of competing services and an understanding of customer needs. It was only "successfully copied" with a learning process that required in-depth analysis and deep understanding of why it was a good business model and what it took to achieve more value. I can say that.
A passage from Steve Jobs' speech, quoting Picasso's words at the beginning.
"It comes down to trying to expose yourself to the best things that humans have done .... and bring those things into what you are doing. Picasso had a saying,'good artists copy, great artists steal.' We have always been shameless about stealing great ideas. "--Steve Jobs
"The best that humans have achieved.... it's all about trying to incorporate it into what they're doing. In Picasso's words,'Good artists copy, great artists steal. We have always been shyly stealing great ideas. "
The process of actually imitating the good things is a deeper learning than just looking at it, and it gives us an opportunity for creativity to think about added value. Rather than making a copy, giving up early, "because this is done by another company" and "not applicable to the customs of this industry or country," can be said to be a "failure" to overlook opportunities. Is it not?