"Entrepreneurial aspirations" to hear the background of deciding to start a business, the conflict until the business gets on track, and the desire to realize through the business.
In the 19th meeting, we interviewed Mr. Sae Hyung Jung, CEO of oVice Co., Ltd., which operates a virtual space that is ideal for telework and events.
【profile】
oVice, Inc. CEO Sae Hyung Jung
Born in South Korea in 1991. After studying abroad in Australia when he was in junior high school and high school, he started a trade brokerage business when he failed to take a university entrance exam in Japan after returning to Japan. Re-examined a Japanese university and went on to study, established an IT business company while attending school, and experienced selling the company to a listed company in 2017. After working as an IT technology consultant, he established NIMARU TECHNOLOGY (currently oVice, Inc.) in 2020.

[What's oVice, Inc.]
oVice is a two-dimensional virtual space where you can move your avatar freely on the web and easily talk to it by bringing it closer to the other party's avatar. Since the service started in August last year, it has been used in various situations such as virtual offices in telework and online exhibitions where you can freely do everything from exhibitions to networking, and at the end of September this year, the number of issued spaces was 10,000. Break through.

Service "

oVice

" that provides virtual space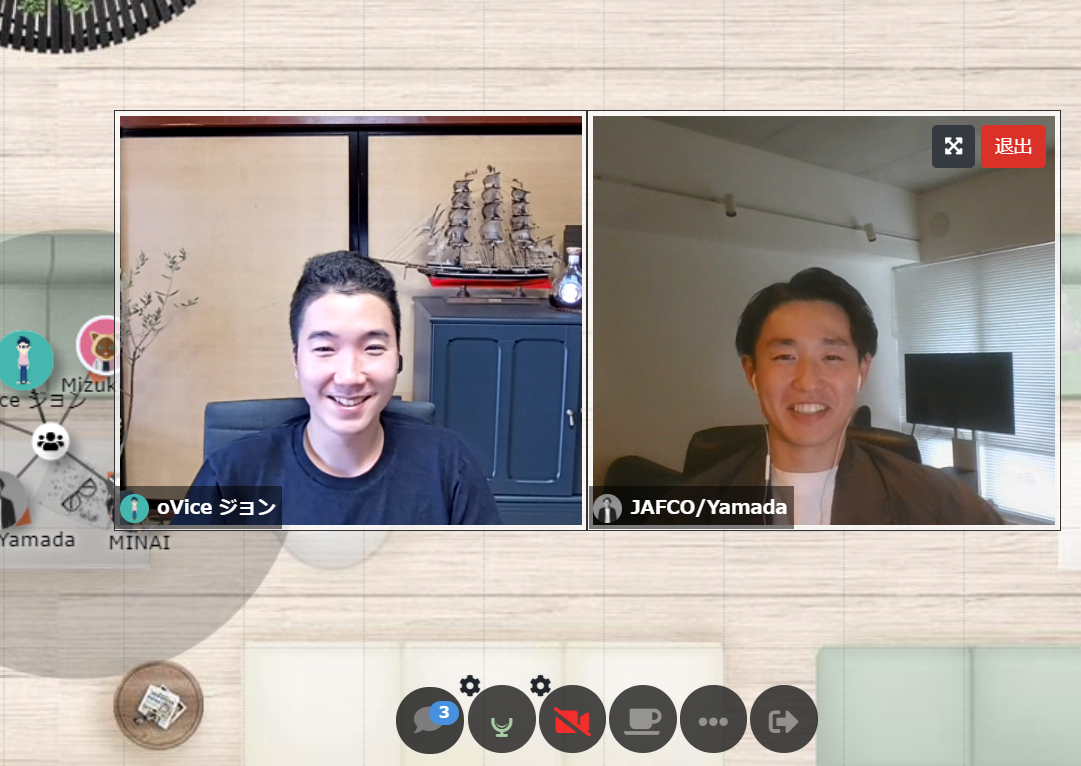 Mr. John and Yusuke Yamada, the capitalist in charge of JAFCO (right)

-This time, we will be interviewing on "oVice". When you use it like this, it really feels like you're talking in the office.
​With oVice, you can move your avatar freely in space to talk to someone or join a conversation. The biggest feature is that you can experience the feeling of being in a real space even online. When you get close to the other person's avatar, you may hear a loud voice, or when you turn your back to the other person, you may have difficulty hearing the voice. You can also make video calls by connecting with people nearby.

-Is this virtual space freely customizable?
Yes. You can set up signs, play background music, create meeting rooms, and customize layouts and floors. Some companies connect multiple spaces to create a virtual building and change the layout for each organization. Since we provide "space", it is used not only as an office but also as an event venue and a lecture room at a university.

-Your office is also on "oVice", and it seems that you basically work fully remotely. How is it used?
It is a space that doubles as an office space where employees work and a demo environment where users can experience "oVice". It is divided into Japanese, Korean, and English-speaking floors, and we will show you how to use it when users come in.
There is also a floor to guide you through the oVice kitchen business. In the oVice kitchen business, meals prepared at our affiliated restaurant reach the participants the day before or the morning of the day, and everyone can have a banquet in a virtual space while eating the same meal. It is used for company social gatherings and retrospectives. "OVice" is a service with a very high continuation rate when a group of 5 or more has an opportunity to talk for 1 hour or more, but in that respect "meal" is very compatible. We believe that having a conversation in the same space while eating the same meal will lead to a further improvement in the sense of unity and affiliation.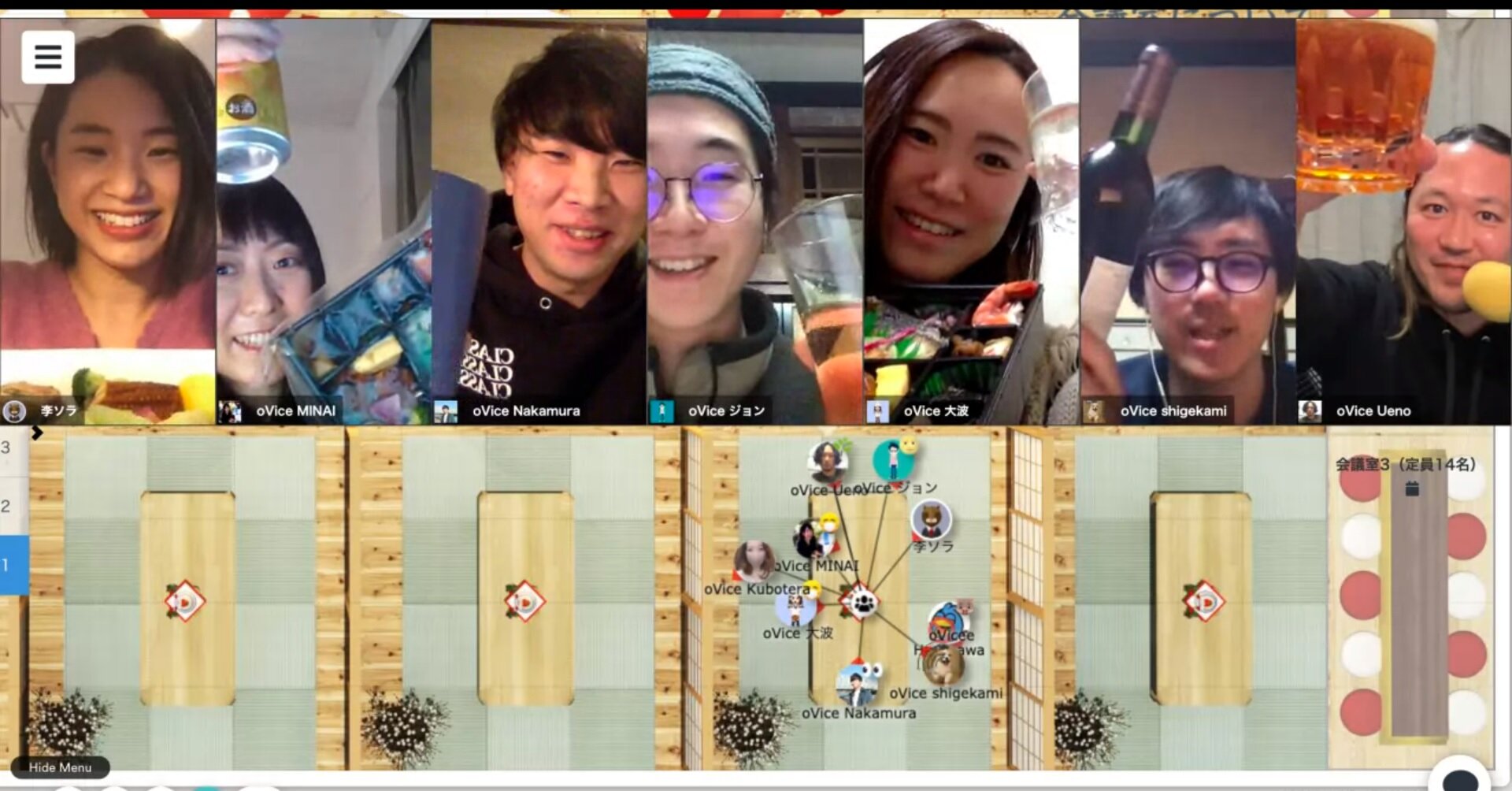 『oVice』でのバーチャル新年会の様子
Entrepreneurial life started at the age of 18
-I heard that you have been involved in a number of businesses until the founding of oVice (NIMARU TECHNOLOGY at that time) in 2020. When did you first start your own business?
I was 18 years old. I took an entrance exam for a Japanese university to become an engineer, but failed, which was a turning point. On the day of the announcement of the result, I was going on a trip, thinking that I was accepted, but on the way I found out that I had failed, so I was so shocked that I decided to quit the trip and go home. At that time I had only two options. Whether to continue studying or start a business. I don't know why I couldn't think of another way, but I felt that I couldn't study any more, so I decided to start a business on my way home and started a business the next day.

-Your ability to act is amazing. Why did you aim to be an engineer in the first place?
Since I was in elementary school, I've always wanted to make Doraemon. At that time, Doraemon's manga and anime were popular in Korea, but I was fascinated by Doraemon just by reading one manga. What I've learned recently is that I don't want to make a robot called Doraemon, but I want to make that kind of existence. Robots made by humans are blending into human society as being of the same rank as humans. I think I was shocked and fascinated by it.
I was studying abroad in Australia when I was in high school, so I was happy with the university in any country, but I wonder if Doraemon is Japan. That's why I was aiming to become a Japanese university where I could study mechanical engineering and electrical and electronic engineering.

-What kind of business was your first start-up?
At the age of 18, I was limited in what I could do. However, it was clear that there was a digital divide in each country, which caused distortion. For example, in the country A, Japanese products are sold at double the price, and if you go to this site in Japan, anyone can buy it cheaply, but the people of A do not know ... It often happened at that time. It was. I also had linguistic ability, so I wanted to monetize this difference in information, so I started a trade brokerage job as a sole proprietorship that connects clients who want to buy products with manufacturers and distributors to set imports.
The business was going well, but due to the large number of transactions between South Korea and Japan, I couldn't stand when the yen strengthened due to the Great East Japan Earthquake. So I closed up my business and went to Japan on a working holiday, and the following year I entered a university in Kyoto. I started a company when I was in the second grade, and after doing a deep learning business for about half a year, I started several businesses aiming at a larger market. In 2017, we sold a business that matches foreigners who want to work in Japan and Japanese who want to work overseas with recruiters to a company listed on the First Section of the Tokyo Stock Exchange, and became an officer of that company.

-Why did you belong to a company even though you have been involved in various businesses as a serial entrepreneur?
It would be nice to be an officer of a listed company in my 20s (laughs). However, after all I wanted to take on new challenges, and in my second year I started a consulting company for AI and blockchain technology, and I continued to take on various challenges.

Create a communication tool with space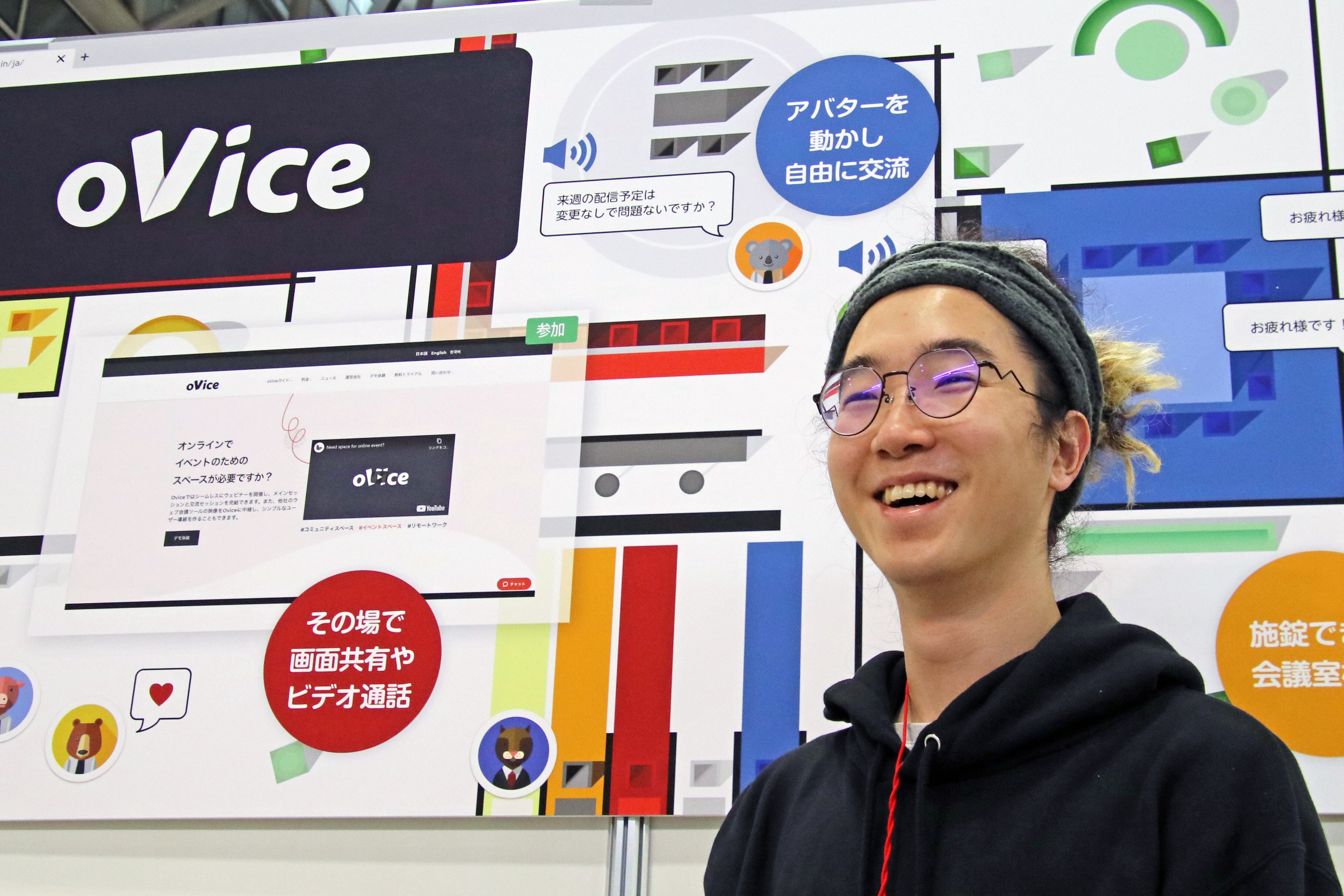 -Please tell us how you decided to develop "oVice".
In February​ ​2020, during a business trip to Tunisia, the new coronavirus began to spread, and due to the lockdown, I could not return to Japan. At that time, I made a prototype of "oVice" for use with the members of the company.
Originally I like offline. I used to go to the office and work all the time except when I was on a business trip. I used to work in an open space without creating a president's office, but when I did that, the conversations around me naturally came to my ears. I was able to go to hear the progress of the project, signs of trouble, and as soon as I was worried. However, I was forced to do telework, and I felt uncomfortable that I could not communicate as usual with existing online tools. I realized that the cause was "there is no space", and if so, I decided to create a communication tool with space.

-How did you come to the service from there?
I made a prototype in a month and decided to make it a service because I felt "this is good". From there, we expanded the functions and released it in August 2020. Since I created an algorithm that incorporates human cognition and physical laws from scratch, there is no document that can be used as a reference even if something goes wrong. We had a hard time solving everything ourselves.
It has been used by more than 100 companies in two weeks after its release. From the major companies that have introduced it from the beginning, we received comments such as "It looks like an office in the real world" and "It has become easier to build a relationship of trust with subordinates", and we really feel what we wanted to achieve. I was happy to receive it.

-Are there any unexpected impressions or usages of the introducing company?
There was a company that did not communicate in particular on "oVice" even though it was introduced as a virtual office. When I was wondering about the purpose of using the service, he said, "We are charging for each other's" presence "that we are working together, even if we do not have a conversation." When I heard that, I realized that although "oVice" is a communication tool, the true value it provides is "the presence and intimacy of being together."
Also, it was used as a theater venue. A participatory mystery in which the audience makes inferences based on the evidence in the virtual space. I felt that this was also a novel usage.

-Is there demand from overseas?
Yes. In the future, we plan to aggressively expand into overseas markets, with South Korea in particular. We have established a subsidiary to strengthen our sales. Inquiries are also increasing from Cambodia and Vietnam.

-Mr. John, who runs an online service and works online, is there a moment when you feel that "honestly offline is easier to do"?
I find it difficult to set up a business or organization in a new market unless it is face-to-face. The initial members, including myself, proceeded with the launch of the Korean market while training camp locally.
I'm not denying offline, the ideal is a hybrid of online and offline. The various senses that you feel with your five senses when you meet in person offline will increase the intimacy between people. It's difficult to reproduce this online, and I'm not even trying to reproduce it. The only thing that can be reproduced is sharing the taste, that is, "everyone eats the same thing." The oVice kitchen business has that intent.
I did a training camp in Korea because intimacy is necessary to build an organization from scratch. If your organization is already established, you may not need to increase intimacy. I think it is important to use online and offline properly or to integrate them depending on the time and the case.


Evolving "

oVice

" with "hybrid" and "ecosystem"
-One year after its release, the number of contracted companies and organizations has exceeded 1,200, and the annual ordinary income (ARR) has exceeded 240 million yen. We have also completed a total of approximately 1.8 billion yen in funding for the Series A round. Please tell us about your encounter with JAFCO, who participated as a new investor.
I got in touch with Mr. Yamada, a capitalist, and met him. JAFCO, the longest-established company, originally had the impression that it was "old" and "heavy", but when I consulted with Series A, I thought it would take about a month, but in a week I had a term sheet (investment). Please give me the documents used for negotiation and agreement of the conditions). Instead of the old corporate structure of moving after all decisions have been made, the impression of an aggressive VC that responds flexibly and has a fast decision-making speed has changed dramatically. At that point, I had almost decided to ask Mr. JAFCO.
I'm usually in Ishikawa prefecture, but when I went on a business trip to Tokyo and told Mr. Yamada that I was in Tokyo, I also rushed on that day (laughs). I felt the enthusiasm to invest.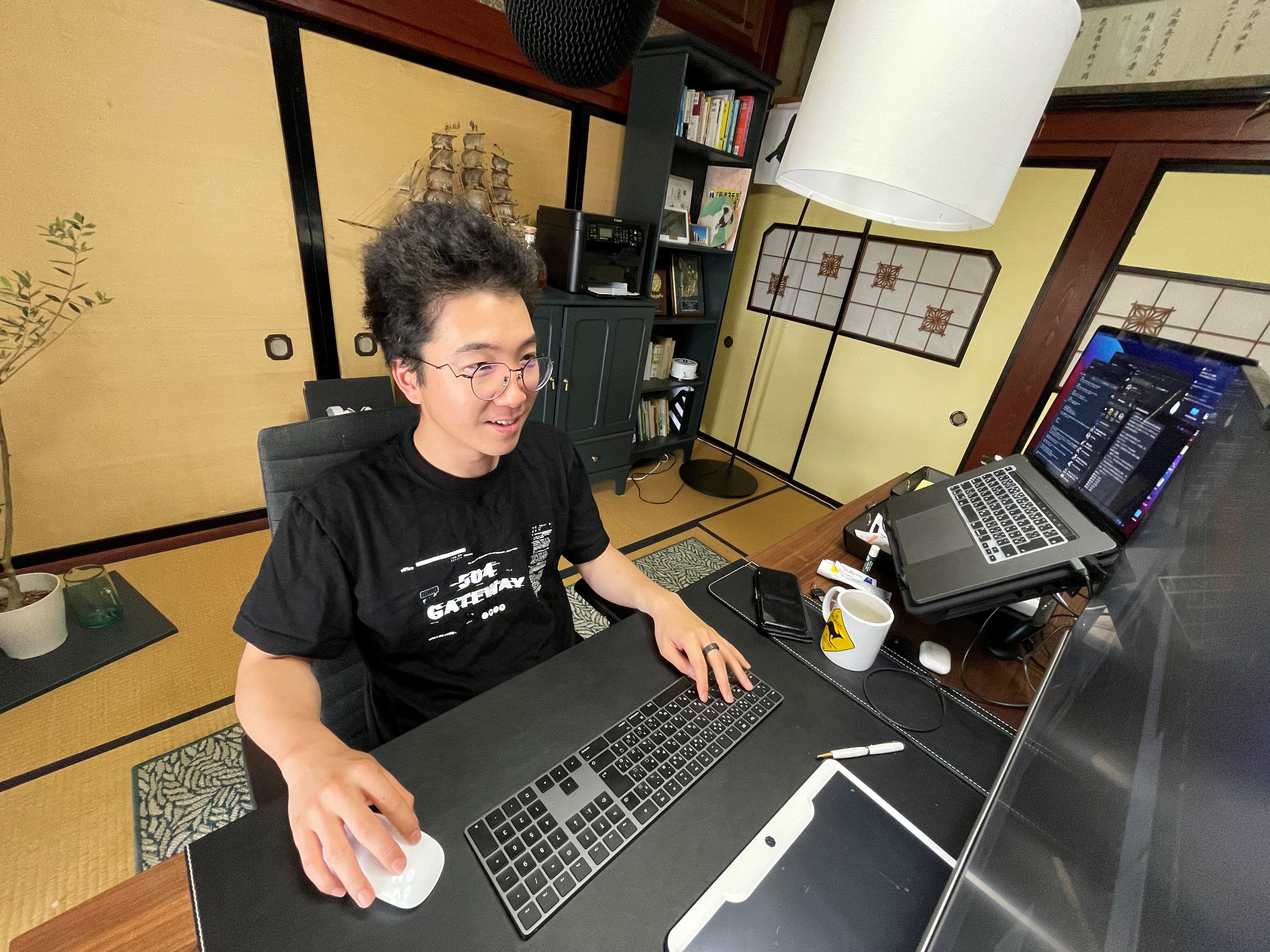 Mr. John working at an old private house in Nanao City, Ishikawa Prefecture


-What are you going to do after raising funds?
Starting with overseas expansion, we will also work on the realization of the "online and offline hybrid" that I mentioned earlier. Recently, in cooperation with Ricoh's streaming service that can deliver 360-degree video in real time, we have implemented a beta version that allows you to communicate with the members who are actually at work. We also want to build an ecosystem that further enhances the value of space by collaborating with third parties such as furniture and home appliance manufacturers.
When I went to Korea for the launch, I had the opportunity to reconsider the concept of "Metaverse (giant virtual reality space)". In recent years, DX such as SaaS and cloud computing has progressed, but I think that the final destination is the Metaverse. Various information and functions are aggregated in the Metaverse, and things move efficiently. As a metaverse, "oVice" wants to seamlessly connect online and offline, and to aggregate and link all service data in the world. To that end, I would like to pursue a "hybrid" and an "ecosystem."

-Is there anything that John, who has various business experiences, cherishes as an entrepreneur?
Looking back on entrepreneurship so far, in most cases you become a user yourself. I felt some frustration in the current situation and created my own service to eliminate it. That's why I'm a professional who uses the service the most and knows the service better than anyone else. I always value that stance, and I want all of our employees to have that kind of professionalism and enjoy their work.

-Please give a message to those who are aiming to become entrepreneurs.
As I'm talking about now, I think it's important whether the service allows you to become a user or the service that makes you feel like a user. It depends on the person who starts the business and the team, so I can't say it unconditionally, but that makes me feel better. In order to move forward without being swayed by various information and feedback on a daily basis, you must have a solid axis and be able to speak about the service on your own. If the service is confident both as a creator and as a user, no matter what anyone says, it should lead to success.