Since November 2021, JAFCO has been supporting the sustainable growth of more than 100 companies, from some listed companies to start-ups, with a deep understanding of customer insights based on data and facts. Bloom & Co. In partnership with the company), we will start offering the marketing support program "RAPID GROWTH PROGRAM" for startups.
"Funding" required for growth, which is an issue for startups, and "marketing strategy" that maximizes the return on investment of the raised funds. With these two pillars, we will support startups to maximize their growth rate, growth accuracy, and corporate value.
This time, Mr. Yasuhiro Yano, CEO of Bloom & Co. Co., Ltd., Mr. Naoki Sato, a partner of JAFCO Group Co., Ltd., Mr. Yasuyuki Toki, CEO of Unifa Inc. K.K. Mr. Naoki Hoshi was invited to talk about marketing and branding strategies at startups with examples.
【profile】
Yasuyuki Toki, CEO of Unifa Inc.
Joined Sumitomo Corporation in 2003 and engaged in investment in startups and business development support in the retail net area. After that, he was involved in the formulation and execution support of management strategy and organizational strategy at Roland Berger, a foreign-affiliated strategic consulting firm, and Deloitte Tohmatsu, a Japanese-affiliated consulting firm. Established Unifa Inc. in May 2013. The first championship in the 1st Startup World Cup (2017), in which more than 10,000 companies from all over the world participated. Graduated from Kyushu University.

Naoto Hoshi, CFO Unifa Inc.
In 2007, he joined Morgan Stanley Securities, a foreign investment bank, as a new graduate. At the Investment Banking Headquarters, he led large-scale domestic business integration projects and cross-border M & A projects of over 1 trillion yen. He also belongs to the activist practice team and is in charge of dealing with multiple shareholders. After working at the Tokyo / NY office for about 12 years, he joined Unifa Inc. as CFO in 2019. Leads various strategic measures including financial strategy, M & A and alliance strategy. Graduated from Waseda University / Graduate School.

Bloom & Co. Co., Ltd. CEO Yasuhiro Yano
Graduated from a US university. In charge of brand marketing at P & G for about 9 years in Japan, Singapore, Switzerland, etc. In Japan, Singapore and Switzerland, he will lead the formulation and execution of marketing strategies with multinational team members. Joined DeNA in 2012. As an executive officer and general manager of the marketing division, he oversees company-wide marketing activities, including mobile game business, e-commerce business, new business, sports business, and corporate branding renewal. Bloom & Co. Co., Ltd. was established in April 2015.

JAFCO Group Co., Ltd. Partner Naoki Sato
Since joining Japan Joint Finance Co., Ltd. (currently JAFCO Group Co., Ltd.) in 1992, he has consistently engaged in frontline investment exit activities. He has been involved in a wide variety of projects from start-up investment to buyout type investment, and has been involved in many capital tie-ups and M & As with large companies as well as IPOs, and has brushed up JAFCO's venture capital status. Inaugurated as a partner in 2018. Currently in charge of investment in the West Japan area and the value-up specialist unit of the investee. November 2018 Appointed as an outside director of UniFa K.K.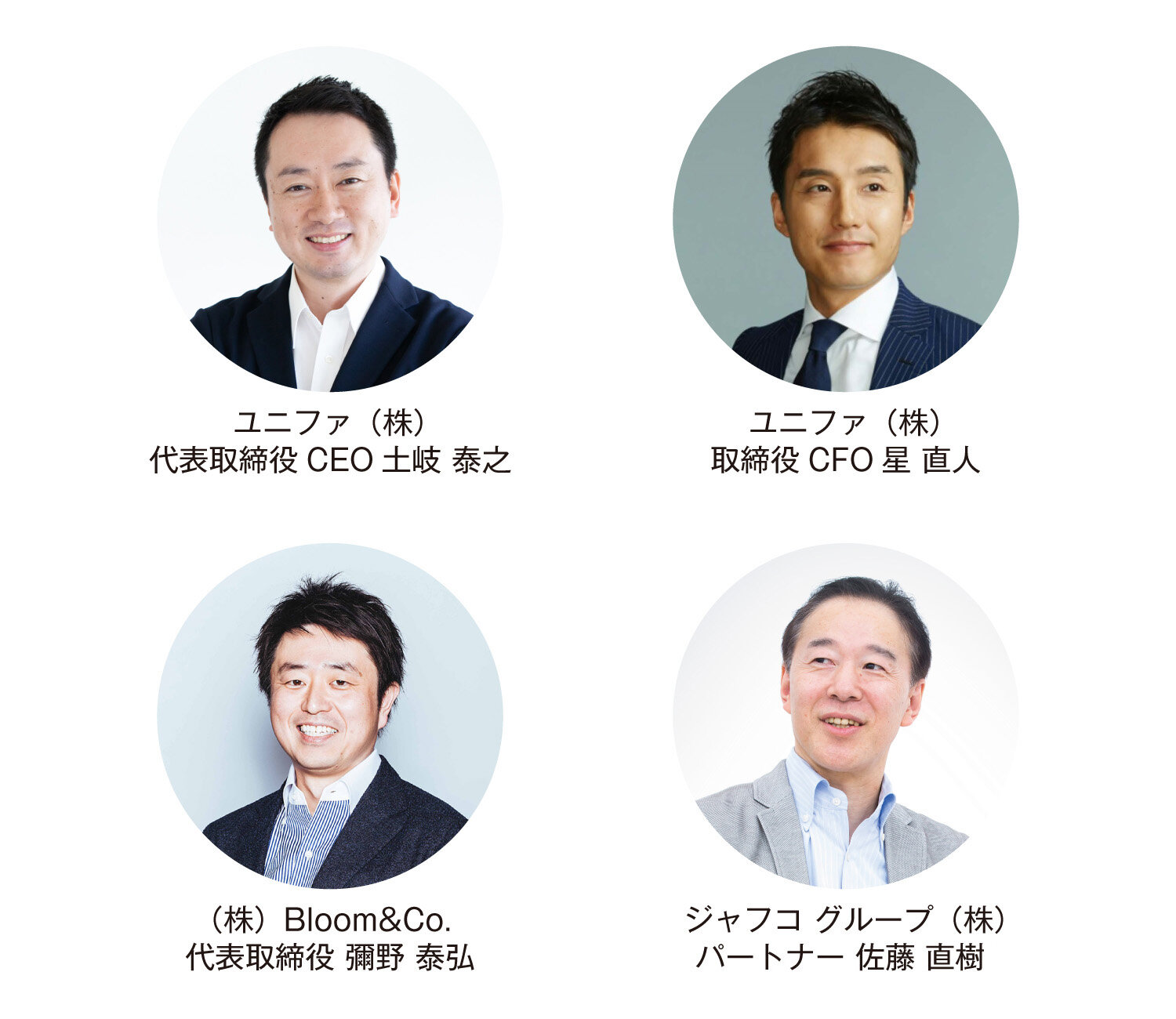 Bloom & Co. × "RAPID GROWTH PROGRAM" which is a program of JAFCO's strengths
-First of all, can you tell us how you decided to provide "RAPID GROWTH PROGRAM" through the partnership between the two companies?
Sato Bloom & Co. (below: Bloom) And JAFCO have partnered with each other 1 year ago. In recent years, the competitive environment has intensified in the VC industry, and value-up measures other than funding have become increasingly important. We have a good track record in sales support, recruitment support, construction of management system, etc., but we are still in the stage of marketing and branding support. Meanwhile, I was providing marketing support for startup support Bloom I got to know Mr. Yano and talked about the alliance.

Yano: It was April-May last year when you entered the Corona disaster. It was also argued that the number of startups going bankrupt due to running out of funds would increase in a situation where the future is uncertain. JAFCO has been supporting for decades before the recent startup boom and is passionate about embodying startup aspirations. Together with Mr. JAFCO, I wanted to express my intention to support startups because of this corona era, so I started a partnership.

Sato: For the past year, our investee startup and Mr. Yano have been striking a wall about marketing branding every week, but this initiative can be expanded to companies other than the investee and other VCs. Then? The story came out. From there, the specific program content was solidified.

-What kind of support program is "RAPID GROWTH PROGRAM"?
Yano: The challenge for startups is always "growth." A startup that doesn't grow can't be called a startup in the first place. I think that there are two major things that are necessary for that growth, "financing" and "marketing strategy" to utilize the funds. Combining the know-how of JAFCO, the largest VC in Japan, with the know-how of formulating our marketing strategy, which has helped more than 100 companies in various industries including startups, we will provide the two wheels necessary for startup growth together. That is the feature of "RAPID GROWTH PROGRAM".
When raising funds, an equity story is important to explain the business plan to investors. Startups can't start without passion, but passion alone won't start or grow. Creating an equity story that incorporates customer insights based on "facts" and "data" as well as passions and opinions will not only increase investor credibility and persuasiveness, but also increase management. There is no needless discussion. As a result, financing is decided quickly and appropriately.
It is also important to think of "return on investment" after raising funds. Even if you raise 100 million units, there are some cases where you can do sensuous marketing and the funds will melt in a few weeks of windless commercials. On the other hand, if marketing activities are carried out based on a strategy based on customer insights based on facts and data in the equity story, investment that will return several times if 200 million yen or 300 million yen is used for marketing. It is possible to obtain an effect. It's not 100%, but in our experience, 70-80% can maximize marketing investment.
Raise funds quickly with fact- and data-based equity stories, and maximize return on funded funds with highly returnable marketing strategies and initiatives based on understanding customer insights. "RAPID GROWTH PROGRAM" supports these two wheels.


UniFa's Marketing Branding Challenges
-Now, I would like to ask you about examples of marketing and branding strategies in startups. First of all, please tell us how UniFa received the support of Bloom.
Hoshi  A junior from my Morgan Stanley Securities (currently Mitsubishi UFJ Morgan Stanley Securities) era was the CFO of LITALICO Inc., a startup that supports people with disabilities. LITALICO's branding is so wonderful that he I talked to you. Then, it was said that Mr. Yano of Bloom helped me, so the first point of contact was to introduce me.

-What kind of issues did UniFa have at that time?
Toki  We provide ICT services for childcare facilities under the brand "Lucmy", and we are promoting and developing "smart nursery schools, smart kindergartens, and smart children's gardens" that have introduced our services. At that time, it was even after the acquisition of a service called "Kidsley." On the other hand, the company name is "UniFa" and it has a big purpose of "creating new social infrastructure that creates happiness for families all over the world". In short, various words were diverging.
How to solve which problem with which solution and how to change society. On the other hand, I naturally have strong feelings, and the stars and the main members also have various feelings. We will unify them into the form of "likes" not from our own ego but from the customer's point of view. In other words, we were in a situation where we couldn't put it into a form that would lead to sales, marketing, and hiring. With Mr. Bloom's help from that part, we proceeded with the reintegration, reorganization, and consolidation of messages.

Hoshi : I am the CFO and the person in charge of the Corporate Headquarters, but the one that was particularly aware of the issues was "hiring ability." When I joined UniFa in 2019, my hiring ability was weaker than it is now, and the number of applicants and the acceptance rate for informal appointments were not sufficient. However, at that time, I felt that there was something wrong with corporate branding, but I hadn't been able to factorize the problem. I felt the most important issue in how to convey the attractiveness of the company to the market, which would lead to hiring ability.

―What was your impression of UniFa's situation at that time from the perspective of Mr. Yano?
Mr. Toki, who is passionate about the Yano business, and Mr. Hoshi, who is passionate about improving the company. I had the impression that they were both hot but different in heat, or that their opinions were slightly different. Also, as Mr. Toki mentioned earlier, Mr. UniFa has multiple businesses, and there are multiple users instead of a single target. Among them, I had the impression that it was difficult to sort out the priorities of what to make for whom and what to convey to whom.

-What specific measures did you take to address these issues?
Yano There are three main types. First, I spent a lot of time organizing the priorities I just mentioned. This made it possible to clarify who is the decision maker for service implementation, who is the target, and who is the secondary target.
The second is customer understanding at the company-wide level. When it comes to creating a business, creating a service, promoting and making an effect, everyone in the company needs to understand the customer more than Mr. Toki. First, organize the logic of who brings the service information, which points are the deciding factors for introduction, and who is the decision maker. Next, conduct an interview survey to understand the entire thinking circuit of the customer. If you can understand the thinking circuit, you can understand the judgment axis, and it will be clear what to do with the product or promotion, so we made a reverse lookup to clear what to do for each service.
The third is the arrangement of unique value that should be provided as a company or as a service. If each member has different feelings and different understanding of customers, they will also disagree on what the company or its service promises and what is different from other companies' services. Therefore, through customer understanding, we proceeded with the arrangement of "customers say this", "customers want this", and "that is why we should provide this unique value" at the corporate level and service level.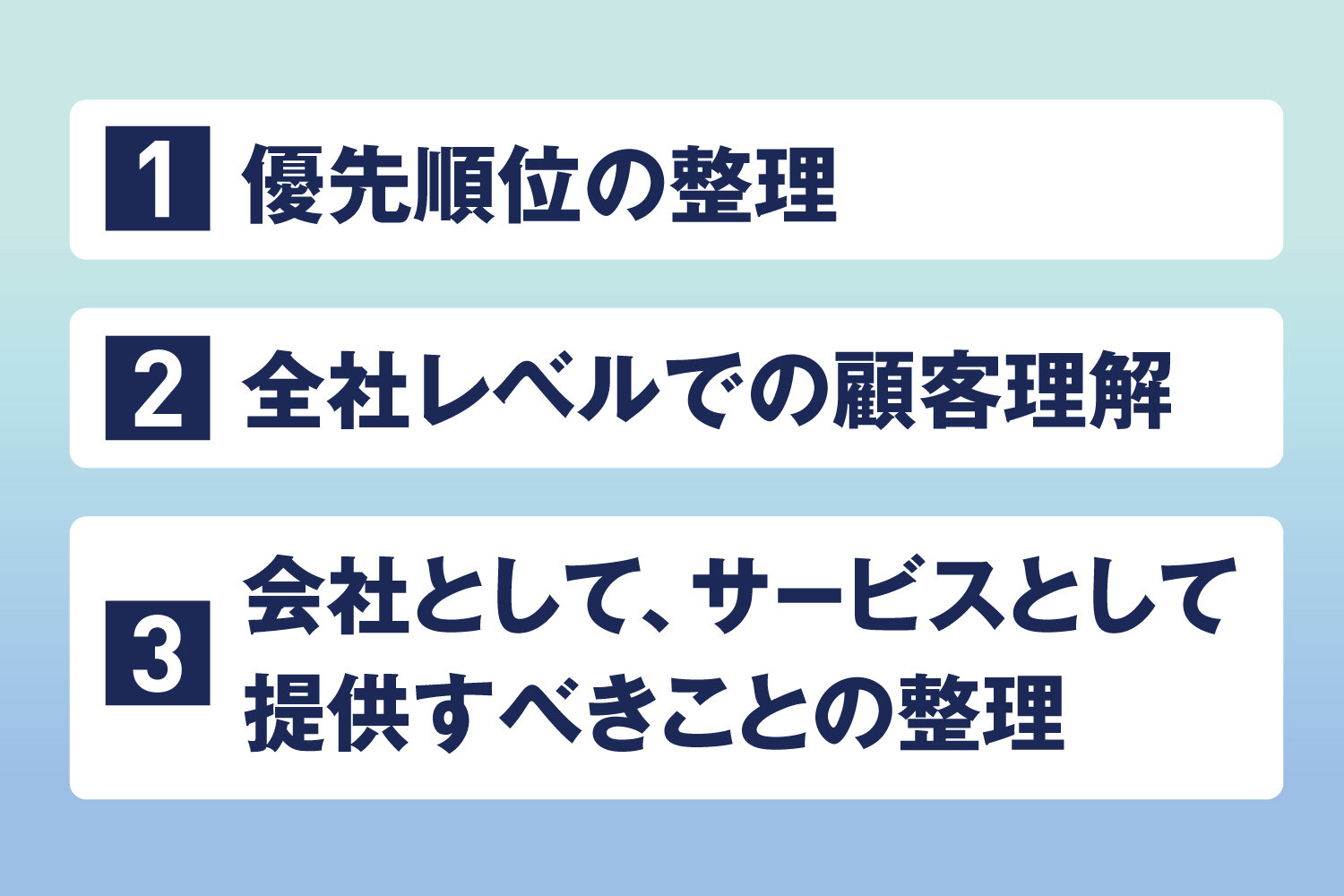 Is there a "customer perspective" in that branding?
―Mr. Toki and Mr. Hoshi, what did you notice when you reviewed your marketing and branding strategy with Mr. Yano?
Hoshi  Corporate branding and service branding are often confused, and I'm wondering if I should do that or this, but I learned a lot from Mr. Yano's words, "The purpose should be narrowed down and simplified." became. For unlisted companies, the purpose of corporate branding is mainly "recruitment", so we will focus on strengthening recruitment capabilities, which was also our management issue. The purpose of service branding is to focus on growing the business. I think it was great that I was able to organize it that way.

Toki  branding tends to be abstract, and if you proceed as it is, your thoughts will shift and you will not be able to implement it in the end. From Mr. Yano, I learned something like a hybrid "type" that sprinkles thoughts on facts and logic. For example, if you give the matrix to the person in charge and say "fill in this", the person in charge will also be filled in, and you will be able to discuss and decide on it. That's how I crush each one properly, and I also take it and unite the company. It is only with the help of Mr. Yano that such a way of proceeding is possible.

I wrote down all the thoughts of the Yano entrepreneur and made them into pictures and videos for branding! There are many cases. For entrepreneurs, it feels good because their ideals are shaped coolly, but in reality, there are many cases where the customer's perspective is missing. In the business, we must derive the connection point between the ideal world that the company thinks and the needs of our customers, and promote it as a product. It feels like I was working on that with UniFa.

I think that Mr. Wataru Sato 's wall-hitting is organizing what the value provided by the company, that is, the value proposition, is that the capitalist always confirms with the investment destination and investment candidate. It's actually the same as being there.

Yano That's right. Connecting entrepreneurial aspirations and investor perspectives with facts and data is the same as discussing and organizing value propositions. I also noticed later in my efforts with Mr. JAFCO, but it was interesting to hear that "actually, we were looking at the same place with each other."

-I think that this initiative needed to involve not only the management but also the entire company, but how did you proceed?
Toki  When embodying a value proposition for a customer, it is important whether or not it is the thought of the company as well as the thought of our management team. For example, members who are directly involved in the product may have a little dreamy story from a medium- to long-term perspective, but sales members emphasize what they can do in the near future, and operation members prioritize troubleshooting in front of them. do. The time axis and the point of view are completely different depending on the type of job. As the company and products are changing rapidly, it was very difficult to unite the thoughts of the members into one and to match "dissemination outside the company" with "what is believed within the company."
Therefore, we invite leaders from a wide range of occupations to participate in meetings with Mr. Yano, and decide on a big direction and measures on the spot. I feel that the involvement within the company has been considerably achieved by thoroughly deliberately proceeding with discussions and decision-making and making sure that the members below are also informed.

Hoshi  Originally, we had a mission, vision, and value, but when we thought about corporate branding not simply as "branding" but as "what will happen to the company in the future," I feel that the content has shifted a little. It was. Meanwhile, I heard from Mr. Yano that there is an idea of "bunching the organization with purpose", and set the purpose while drawing on the thoughts of the employees. Along with this, the CI such as the company logo and the homepage have been significantly renewed with the cooperation of both inside and outside the company. The project was carried out with the involvement of as wide a range of stakeholders as possible.

Achievements in terms of "recruitment," "financing," "business," and "organization."
-I would like to hear about the results of this initiative. First of all, from the recruitment aspect where the stars were emphasized.
In terms of star  adoption, it was really effective. In the past, we sent a passion-driven message, so there was a tendency for people to have a strong sympathy for the business content, but "We are doing good things socially, while seeking economic efficiency and growth potential. By branding "I'm a startup," we are now able to apply for people with very high skill sets that are sympathetic and drive business growth. Specifically, human resources such as foreign investment banks and foreign consulting firms, which are difficult to hire at startups, are interested, and the rate of acceptance of informal offers is increasing dramatically.
Branding is a stacking type rather than a zero one, so it will start to change gradually only after execution, but it seems that I was able to realize the results 3 to 6 months after the actual launch.

-How was it in areas other than hiring?
Hoshi  On the funding side, as Mr. Yano said, I felt that the equity story and marketing had a very overlapping part. By discussing with Mr. Yano, I think that the resolution of the business as a CFO has improved, the points of appeal to investors have become clearer, and accurate explanations have become possible.

Toki  I would like to talk about the business and internal aspects. By solidifying the brand equity of the service "Lucmy", we have unified all the messages to our customers since last summer and have continued online events related to nursery schools. So far, more than 10,000 people involved in nursery schools have been able to participate in the event, and I have the impression that we are able to send and convey messages that involve the industry.
In addition, as a derivative of this, an in-house project was launched to protect and nurture the "Lucmy" brand together, and the members of the company are also moving to chew and embody the brand. Since we were able to release a product that embodies those feelings this summer, we would like to aim for further growth through larger-scale sales promotion measures. As I have been working with Bloom for almost two years now, I think it has become easier for people inside and outside the company to unify their intentions because they have established an axis for their own marketing and branding.

-How do you see the results of UniFa's efforts?
Sato: I also participate in the board of directors every month, and I feel that the sophistication of marketing measures is steadily increasing. In June of this year, it was announced that it would raise 4 billion yen as Series D, but I sympathize with Mr. Toki's passion for improving the childcare industry, and the potential market by changing the entire industry structure where DX is delayed. I think that this initiative, which connects the potential with facts and data and clarifies the points of appeal to investors, has been successful.

Yano: So far, there have been many "desk stories" for creating growth strategies. For that reason, I think it was difficult to realize the effect, but today I heard from them and healed me (laughs). The fact that we can raise this amount of money at this pace is a sign of the high expectations from the market. I would be very happy if I could contribute to a part of that, and I think the future phase is how to shape it from the expected value of MAX.

-What kind of existence are JAFCO and Bloom, which are support partners, for Toki-sama and Hoshi-sama?
I have been with Mr. Sato Toki  for more than 10 years since my previous job. After fully understanding my intentions and feelings, he will accurately identify the points that are likely to fail, so I feel that he is accompanied in the true sense of the word. Mr. JAFCO joined us from Series A, and it is a great support for our business.
Also, when we are worried about the direction and measures of marketing branding, Mr. Yano gives us advice when deciding on the last minute. I would like to continue taking on challenges based on what I have accumulated together so far.

Star  Both are professional partners that we truly trust. The point that you can get accurate advice from abundant skills and experience. Even if he takes risks, he makes recommendations saying, "I think this way," even though he is an advisor who can escape. And every time I face hard things, I can talk with each other without hiding them. I am very grateful for that.

What is the essence of marketing branding?
-Finally, do you have a message about the importance of marketing branding in startups?
The essence of Toki  marketing branding is "how to move people's hearts". I think it is important to continue to convey the message from the standpoints of customers, investors, and candidates for employment. I have no choice but to continue to compete without knowing the correct answer, but the important thing in that case is to make small adjustments while repeating hypotheses, challenges and failures. I think that will ultimately lead to the big challenge of social change, so I think it is important to continue to take on the challenge.

Star  The essence of all corporate activities is basically "to create a sustainable company and maximize corporate value." One such measure is marketing branding, which is a means. Do not confuse the purpose with the means, and increase the resolution of the part of what is the purpose of marketing branding. And I think it is important to be able to explain it not only in the qualitative aspect but also in the quantitative aspect.

Sato: Marketing and branding are not special things, but what are the characteristics of your company, who are your customers, and what are your value propositions? By making it stand out, I think it will be an effective way to leverage it. In addition, it is important to have an opportunity to organize thoughts from an objective point of view, because it is biased only by the thoughts of the company. As for the timing, is it good before and after large-scale procurement? UniFa was invited to join Bloom just when he finished Series C. I think it is important to consider what kind of measures should be taken to maximize the return on investment while having a certain amount of funds.

Yano: Originally, how to create a state where business can grow without a lot of advertising. To reorganize the important points for that purpose, the first is the "customer perspective." In addition to your passion and what you want to do, you need to add a customer perspective.
The second is "necessity" rather than "tara". Instead of "if this happens, it will work", but "if you tell the customer this way, you will sell, increase profits, and be pleased". Branding is not about listening to an entrepreneur's thoughts and making them look cool.
And the third is the "facts" and "data" that I mentioned first. Passion alone may be enough to do with your own money, but investors naturally look calmly at the numbers. If you involve others, the key is how you can logically explain the prospects for your business to grow, so it is important to align the "facts" and "data."