On December​ ​22, 2020, JAFCO held an online seminar entitled "Management'Decision-Making'&'Future Prospects' in Corona, which is considered to be a VC," with opinion leaders of major companies and startups as guests. In the second part, Mr. Yasuyuki Genda of SoftBank Corp., Mr. Hiroyuki Nagashima of Nitori Holdings Co., Ltd., and Chikako Morimoto of morich Co., Ltd. Mr. Mr. took the stage.

[Speaker profile] (honorific title omitted)
<Guest>
Yasuyuki Genda, Deputy General Manager, Human Resources Division, Human Resources and General Affairs Division, SoftBank Corp.
Joined the company in 1998. After experiencing sales, he has been in his current position since 2008. In addition to being responsible for all new graduates and mid-career hires, he is also responsible for SoftBank University, a training institution for employees, SoftBank Academia, a successor training institution, and the new business proposal system (SoftBank Innoventure), which was established in 2016. He also serves as the secretary general of the Masayoshi Son Foundation.


Hiroyuki Nagashima, Director / General Manager, Organization Development Office, Nitori Holdings Co., Ltd.
After graduating from university, he joined Nitori in 2013 after gaining experience in the marketing department at Toray and Sony. Since 2015, he has concurrently served as a hiring manager and an education manager. From 2019, he will be the personnel manager of Nitori Holdings. Introducing the customer's perspective of marketing, which he has been involved in for a long time, to the field of personnel, and developing "talent management of an organization that learns from each other" by making full use of HR tech. Based on the idea that "individual growth will be the growth of the company and the power to change society", we will spearhead the organizational development and change of the entire Holdings with measures based on the values and curiosity of employees. To take.

CEO of morich Co., Ltd./All-rounder agent Chikako Morimoto
After graduating from Dokkyo University Faculty of Foreign Studies, Department of English, joined Recruit Human Resources Center (currently Recruit Career) in 1993. He has a good reputation for problem-solving ability and coordination ability that perfectly matches the needs of companies and job seekers, and is relied on by many managers both publicly and privately as a "good advisor". Appeared in 2012, 2013, 2015 and NHK "Professional ~ Work Style ~". In March​ ​2017, he established morich Co., Ltd., and in addition to job change agents, he has served as a director, outside director, advisor, etc. of multiple NPOs, and has written many books such as "Invincible Job Change", further expanding the area of activity.

<Facilitator>
JAFCO Group Co., Ltd., Ltd. Shintaro Kanazawa Kanazawa
Joined Works Applications Co., Ltd. In 2017, he participated in Egg Forward and became an executive officer, working on organizational issues and human resources issues in many companies. Currently at JAFCO, engaged in startup organization and human resource development support to increase the value of investees.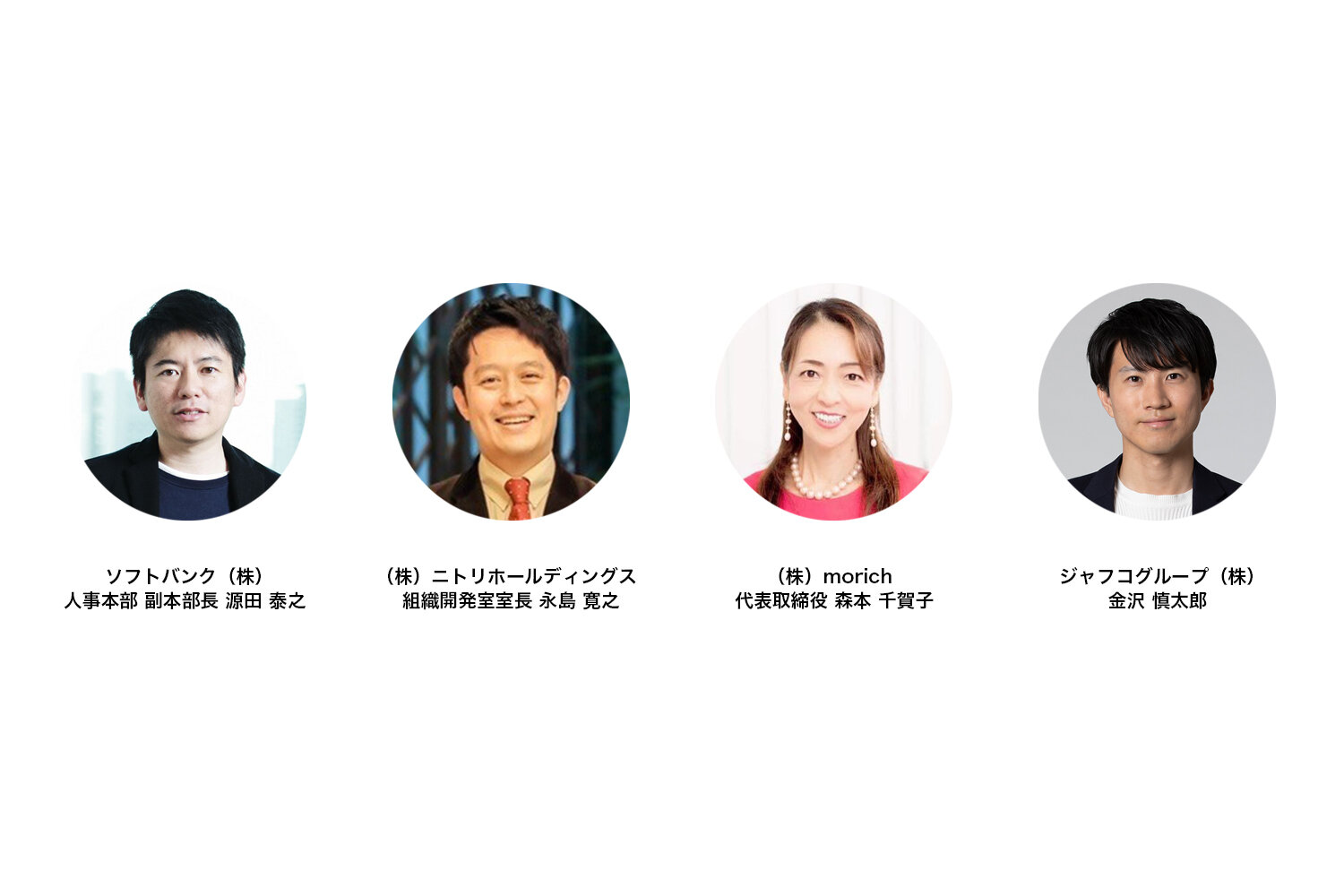 Human resources needed in the future and those who do not
In Kanazawa  Corona, the changing way of working has changed at an accelerating rate. Keywords are "remote business change", "what a management exposure", "how to use time entrusted to an individual", etc. Has there been any change in the image of human resources needed in the future and the image of human resources not required in the future?

Genda The essence has not changed. SOFTBANK has long been designing human resources development with an emphasis on employee independence, sense of ownership, and fostering a mindset to enjoy change. In this corona disaster, I feel that there is a difference between those who can positively accept changes and think and act independently, and those who stop thinking.
For example, in terms of "how to use time entrusted to individuals," the number of applicants and participants for online training for employees has increased 1.6 times due to Corona. I think this is due to the fact that commuting time has been reduced and my time has increased, and that I have a sense of crisis that I will not be able to survive unstable times unless I grow up. I think that the action is divided depending on whether or not you have the power to enjoy.

Nagashima  There is no change in the image of the person you are looking for. In order to achieve the goal of transforming into a global lifestyle proposal company while raising group sales from the current 600 billion yen to 3 trillion yen in 2032, until now it has been an extension of the current business model. It has grown continuously, but in the future, we would like to expand and grow discontinuous business areas starting from the growth and productivity improvement of individual employees. To that end, we define human resources who can act from their own values and curiosity and human resources who can self-manage as autonomous human resources, and are working on recruitment and training.
What became clear in the Corona sword was that there were variations in the management abilities of managers. The difference between a person who can manage his subordinates remotely and a manager who has to be fooled by "Nanchatte Management" has become clear. In Japan, there are many cases where the boundary between the management layer and the members is ambiguous, such as when an excellent player becomes a manager without receiving sufficient management education, so there are many people who become tattered when the physical distance is increased. bottom. It was an opportunity to strengthen management education as a skill.

Kanazawa : When I heard the story of both of you, I felt that "ability to respond in a crisis situation" would become a common keyword, but what is the difference between those who have it and those who do not?

Genda  I think there are environmental factors such as whether or not you are in a company that has changed its business domain, such as Softbank. Is that person's qualities and experience? People who want to work on new things with curiosity and those who want to do certain things in a stable manner are different.

Nagashima I also have a lot of experience. I think that "autonomy" is when one's values and curiosity are clear, and when motivation is added to it and it appears in action, but it may be related to how much you are stepping on such a place. ..

Kanazawa  Mr. Morimoto looks at the hiring and human resource development of companies from a bird's-eye view. How do you feel about "human resources needed in the future and those who are not?"

Morimoto: According to a survey by a recruiting agent called "Analysis of Determiners in the Last 10 Years," job changers from different industries accounted for 67 % of the decision makers. In addition, as a result of hearing the "percentage of people who are active after changing jobs" to companies, the job change source is "same industry / same occupation" "same industry / different occupation" "different industry / same occupation" "different industry / different industry" The ratio of "" is about the same as 48-51​ ​%, respectively. The highest percentage was for "same industry / different occupations".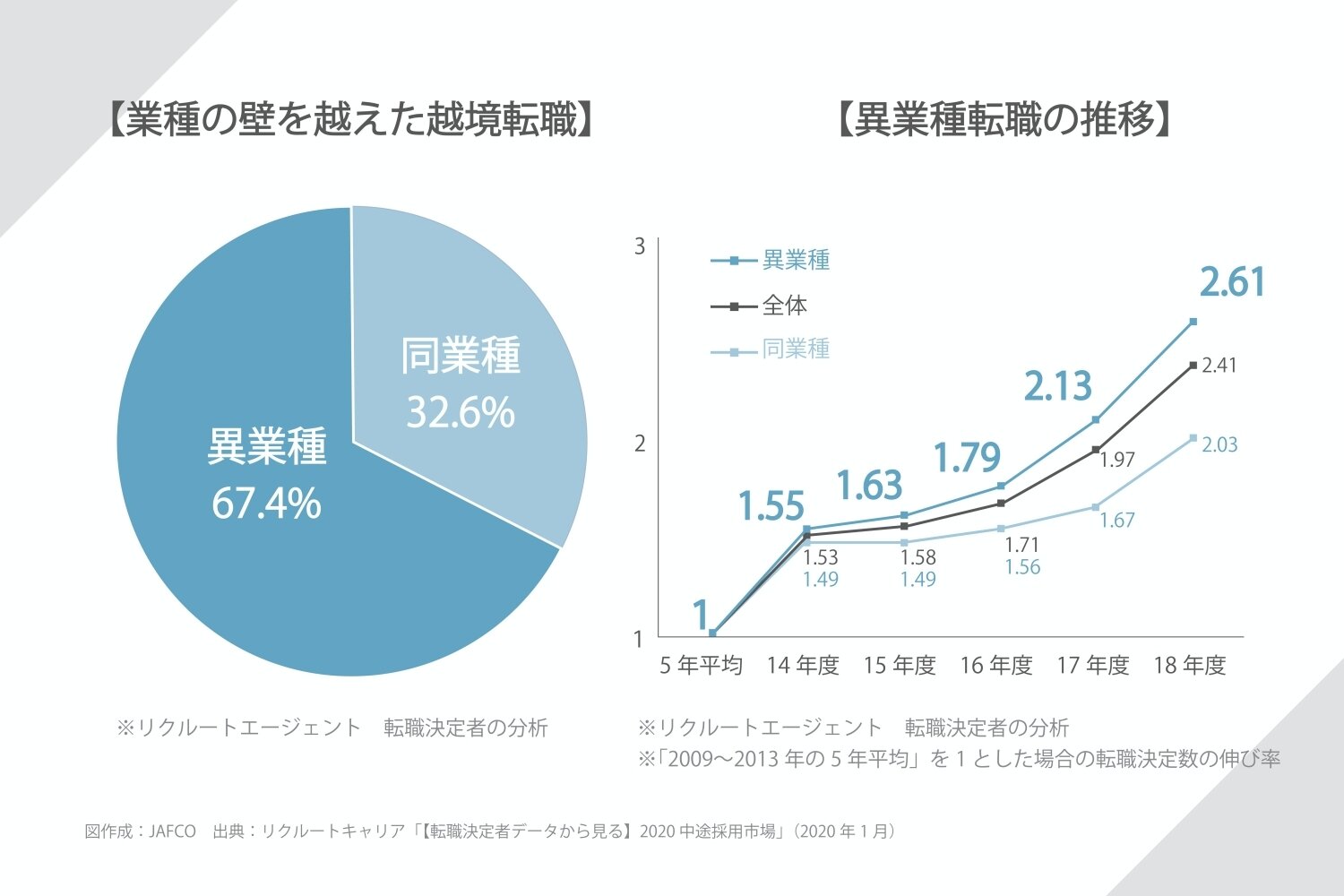 Human resources who can play an active role after changing jobs are not "people who can reproduce their career skills." We call it "cross-border human resources" and "cross-border career change," but I realize that discontinuous careers promote human growth. Even within the same company, there are opportunities for department transfers, transfers, secondment to group companies, and overseas assignments. I think that how much you experience Shuraba while your brain is soft will lead to the "change responsiveness" that you mentioned earlier.
In addition, the human resources that the management wants to hire even if they approach themselves are those who can take on the "offensive DX". Those who can renew the conventional business model and monetization model with DX are in a hurry. People who have the skills to combine the specialty in the domain of the main business with the business mind and the management mind are also the human resources targets that companies are looking for now.

How to retain and grow the necessary human resources
Kanazawa  According to DODA 's job openings-to-applicants ratio report in October​ ​2020, the number of job openings has increased by 7 %, even though the number of job openings has decreased by 30 % compared to October of the previous year. Under such circumstances, I would like to ask you about the viewpoints and ingenuity that companies should be aware of in order to retain the necessary human resources.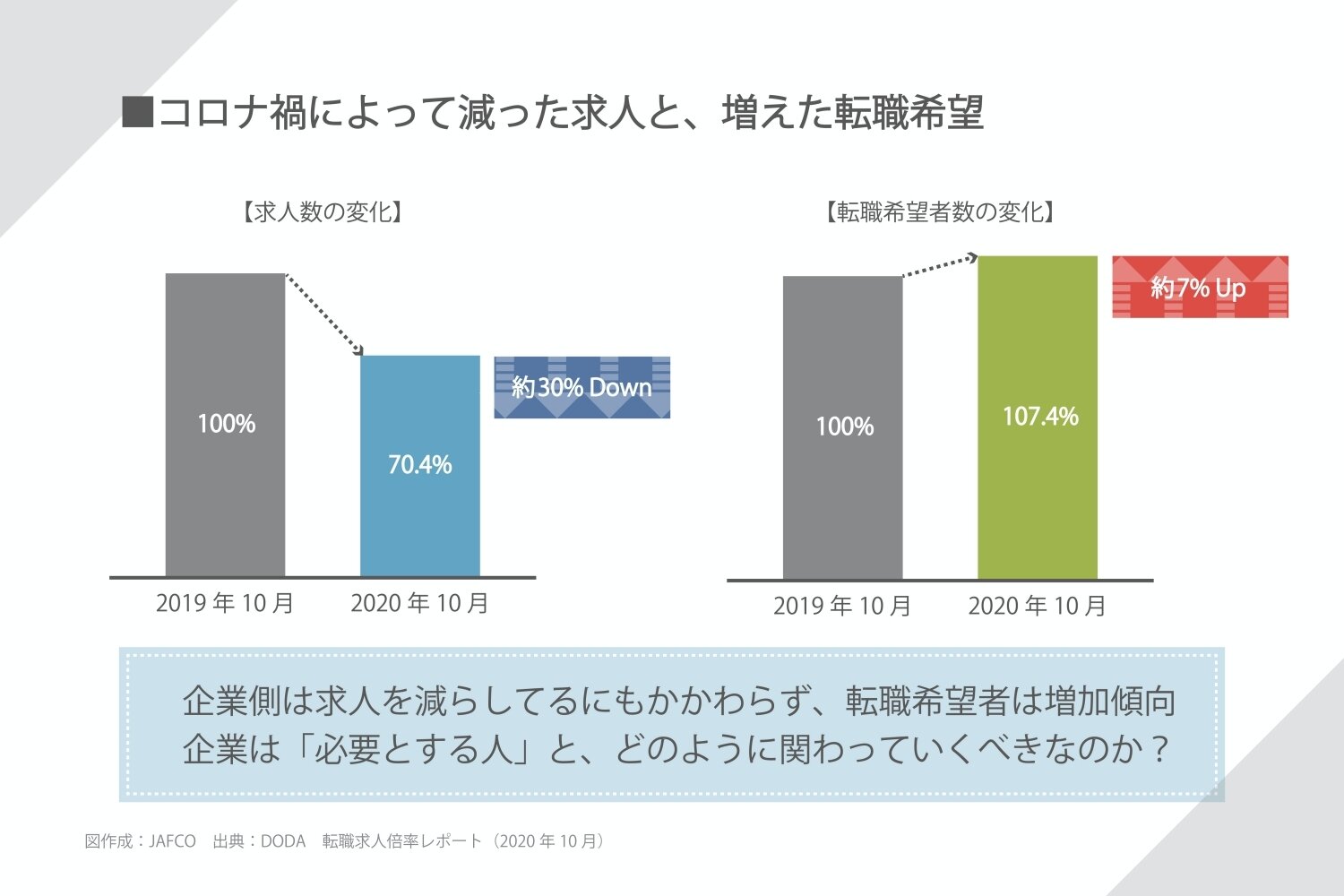 At Nagashima Nitori, the idea of "many elite" and the keyword "cross-border curiosity" (trademark registration) that I created are the basis of education.
As an example of our efforts, we ask employees to write a 30-year career design sheet twice a year. How do you tackle social issues in the next 30 years, and what do you want to do in the next 30 years? Recently, we have changed to a method of selecting from the goals of the SDGs, and the response rate has reached 80 %.
In addition, since there are all types of business within the company, we relocate all employees every two to three years so that they can experience "cross-border within the company". There is also a project that gathers people with the same sense of challenge to create a task force and propose it to management, and dozens of groups participate annually.

Genda  SoftBank's business is diversifying, but we will continue to realize our management philosophy of "making people happy through the information revolution." To that end, we have introduced a system that allows people who have a clear idea of what kind of career they want to pursue and what they want to do to take on the challenge. In the job posting and FA system, hundreds of people raise their hands every year and transfer, and we have already allowed more than 1,000 side jobs.
Previously, I was shocked to see survey data showing that satisfaction after changing jobs tends to be lower than before changing jobs. The conditions should be matched, so the possible cause is a cultural gap that you can't understand until you join the company. If so, I think that by creating many paths within the same company that can be challenged, we can provide opportunities for growth while avoiding the decline in satisfaction due to gaps. In fact, there is data that people who have been transferred using job posting, etc. have all improved their evaluation, achievements, and motivation at the transfer destination.

Kanazawa  Participants asked us what kind of approach the company would take to the "people who stop thinking in the midst of change" that I mentioned earlier. How about Mr. Genda?

Genda  There is no panacea, but from the hiring stage, we focus on "whether you have chosen the path you want to take and lived your life", and the personnel system is designed to support such people. Job posting, FA, and training are basically all raised by hand, and training can be taken from the stage of informal candidates. We first identify people who have the potential to take on challenges even in the face of change, and we are conscious of creating an environment that fosters such a mindset even after joining the company.

Morimoto  The reason for changing jobs in Corona is that "because I can't do a side job" is increasing. AI There is also a sense of crisis about the evolution of the world, and there is an increasing need to hone skills not only in the work in front of us but also in other fields. The change from "to increase income" to "to hone the skills that can be used in the main business" is <side business 2.0 If it is, then we will visit in the future <side business 3.0 > Is "my own Will To realize. " I think the point is whether the company can provide that.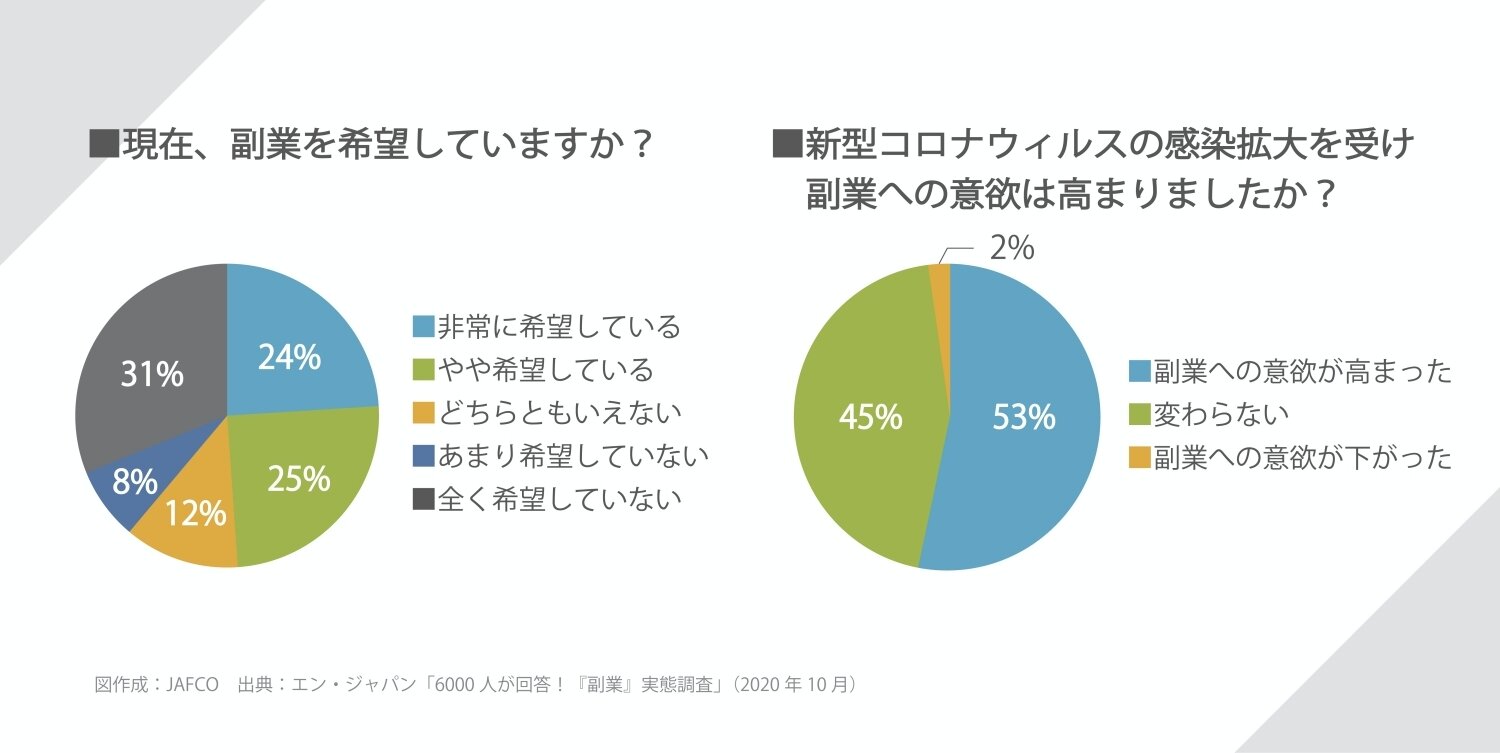 The number of large companies that are launching new business proposal systems is increasing, but unfortunately when asked whether they are seriously investing in new businesses born from them or expanding the market for new business domains, that is not the case. Many companies do not. I feel that it is important for human resources development to continue to seriously create an environment where new challenges can be taken and continue to invest in it.

Personnel themselves voluntarily turn learning into action
Kanazawa  Finally, could you give a message to business owners and entrepreneurs?

Genda  Personnel is a job to connect people and businesses. It may include employees, management, management, and indirectly with business partners and customers, but there is no right answer here on how to support good conditions for everyone. It is important for you to acquire independence and the ability to respond to changes and take on challenges.

With Nagashima  Corona, individual employees are inevitably involved in what is in front of them. Organizations that are not well managed will not have centripetal force and will become more and more disjointed due to centrifugal force. The role of human resources in that is to connect to the power of the organization without damaging individual values and curiosity. I think it will be important for personnel and management to create a place where each employee can verbalize what he or she wants to do and connect it to actions, and match that with the goals of the organization.

Morimoto : I think there are many people who have increased their input due to Corona's disaster, but it is important not to keep learning but to take action. There is also data that only 10.1% of people can actually take action. I hope that you will take the first step in order to turn learning into action and update it to make your life the correct answer.