"Entrepreneurial aspirations" to hear the background of deciding to start a business, the conflict until the business gets on track, and the desire to realize through the business.
In the 8th meeting, we interviewed Mr. Junichi Saito, President and CEO of AGRIST Co., Ltd.
【profile】
Junichi Saito Saito, President and CEO of AGRIST Co., Ltd.
Traveled to the United States in his early twenties. Engaged in service development at a music distribution startup in Silicon Valley. After returning to Japan, he established a design company in one room of the apartment. Handles numerous projects such as major companies and government offices. Taking the opportunity of the Great East Japan Earthquake, he decided to utilize his skills and experience in solving regional issues. Since then, he has been involved in many regional revitalization projects all over the country. In 2017, he became the representative director of the Koyu Community Development Promotion Organization (hereinafter referred to as the Koyu Foundation) established by Shintomi Town, Miyazaki Prefecture. In 2018, he was selected as a good example of regional revitalization in Japan and presented the case at the Prime Minister's Office. In 2019, AGRIST Co., Ltd. was established to solve agricultural issues. MBA (Master of Business Administration). Part-time lecturer at Keio University. Completed the Innovation Master Series at Stanford University.
[What's AGRIST Inc.]
Established in 2019, starting with a study session with farmers that has been held since 2017 in Shintomi Town, Miyazaki Prefecture. With the mission of solving agricultural problems with technology, we have developed an automatic harvesting robot for agricultural products. We aim to solve agricultural issues not only in Japan but also in the world, such as solving the shortage of human resources and reducing labor costs. By converting the accumulated image data of agricultural products into big data with AI, we will work not only on harvesting but also on early detection of pests and environmental control. In 2020, won eight business contests. Agricultural crop automatic harvesting robot applied for PCT international patent. In January​ ​2021, the fundraising round series A was completed, and recruitment is being strengthened and sales channels are being expanded.
I experienced the rigor of management in Silicon Valley, and on the contrary, I got a sense of challenge to start a business.
-Mr. Saito has a variety of careers such as a Silicon Valley startup, a design company in Omotesando, and a regional revitalization project. Can you tell us what made you want to start a business?
Originally, I wasn't explicitly aiming to start a business. He spent his childhood in rural towns in Nara and Nagasaki prefectures and entered Kansai University. At that time, many students found employment in large companies, and universities recommended it. However, although I was born as the eldest son of the so-called office worker family, I wanted to try a different path from my father from the time I was aware of it. And because of my longing for overseas, I thought, "I want to go to America someday."
Meanwhile, the first turning point comes. Suddenly, a close relative died in a car accident. I remember seeing him the day before, so I was very shocked. At this time, death could come suddenly to anyone, I couldn't say "someday", I dropped out of college saying "Let's go to America now" and decided to go to the United States.

-You made a bold decision, didn't you? What kind of days did you spend in America?
I went to Silicon Valley in the United States to experience the cutting edge of the world's business. The first community college I entered was an interesting college where Steve Jobs had been a part-time teacher in the past and​ ​Apple​ ​'s​ ​products were used in class. After graduating, I joined a local startup music distribution company.
At the time, I was the fifth employee, joining as an intern and eventually responsible for service development for mobile users across the United States. At that company, I experienced both the fun of business and the rigors of management. At that time, I worked on the side of the CEO, but recruiting activities, financing, etc. I have seen many important decisions up close. For me at that time, I was shocked that it was a decision that I could never do now, and on the contrary, I felt that I wanted to challenge the world of entrepreneurship.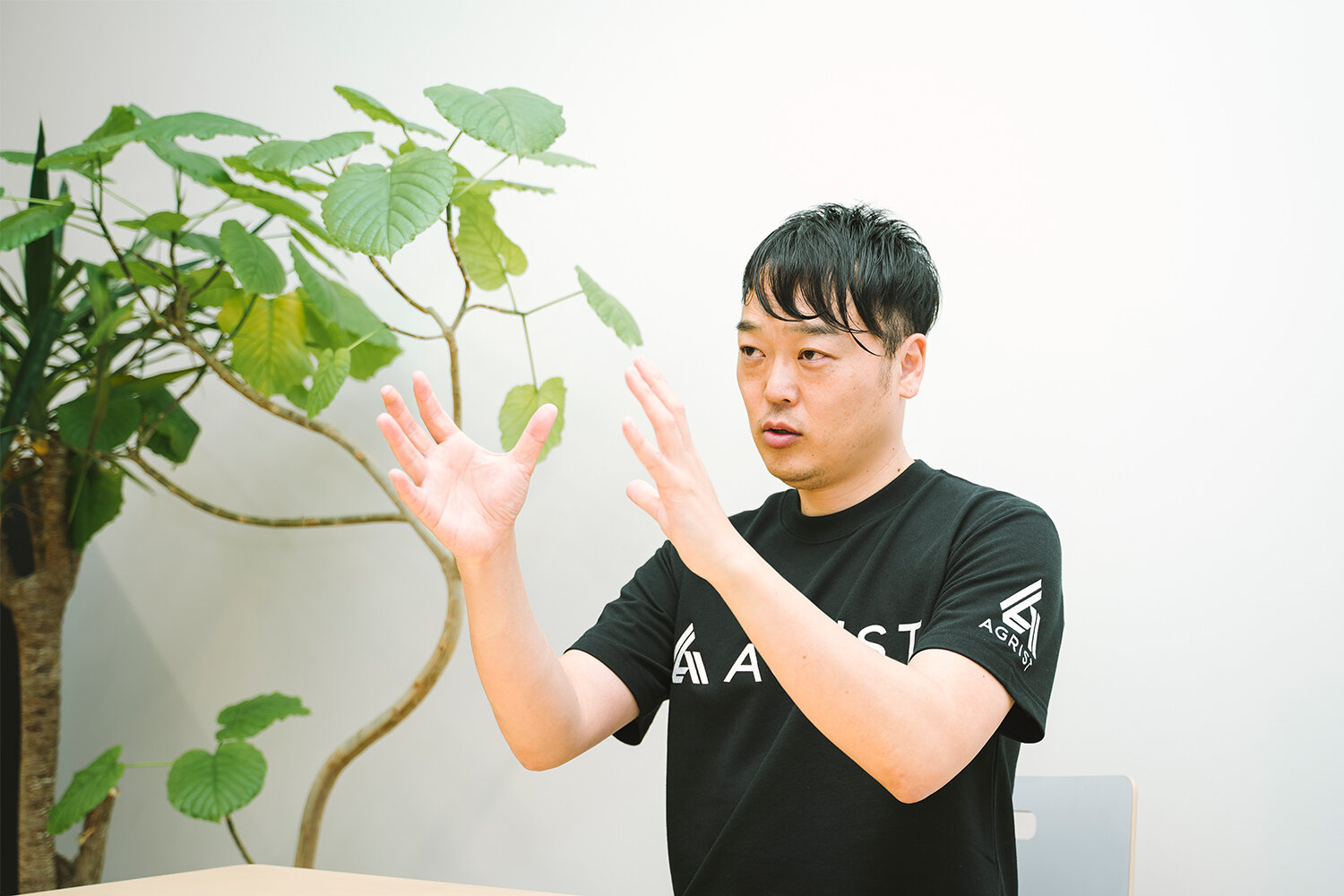 The CEO at the time always said, "If you want to start a business, you should set a deadline." The reason is, "If you work hard for three years, you will definitely become an expert, and even if you make a mistake, you can start over again." When I heard that, I decided to go back to Japan and start a business when I was 25 years old at the time, thinking that I would do it once in my life.

After returning to Japan,he runs a company in Omotesando.From a local site to Miyazaki as a base to solve problems
-How did you start your business and develop your business after returning to Japan?
Having been in charge of services in the areas of design, branding and marketing in the United States, I first started a design company in Japan. At that time, the IT bubble continued, and the main business was website production. I thought that I would have a lot of work after returning from the United States, but when I first opened, I had no work at all. Even if someone who has been indebted to me since the American era said "I'll introduce you to a job", I refused "I'll do something about it myself", and in Silicon Valley I was the "orderer of the job", so I'm in good shape. I guess I was riding in (laughs).
Finally, I couldn't pay the rent, and I didn't want to experience it again, saying, "Oh, money really disappears in an instant." After that, I abandoned my pride and posted on the WEB bulletin board, and desperately opened to the WEB production company. Gradually, I was able to get jobs, and eventually I was able to grow to the point where I could handle projects for major companies and government offices, and I was able to set up an office in Omotesando. From that point on, as I was busy working, I gradually became aware of "rewarding".
I can't say it unconditionally, but although I can make a lot of money from the big budget work I received from a major advertising agency, it was a little different from "rewarding" to me. Compared to that, the project for regional revitalization, which I was doing little by little, had a small budget, but I was happy because the local people often said "Thank you".
Perhaps it has revived that I liked the sense of"separate culture"in the area that I experienced while living in a rural area when I was a child. I realized that it was the job I wanted to do. I realized that I wanted to be thankful to others, not just to make money.

-I see, from that point on, you're serious about working in the community.
I agree. In 2011, when I began to have such feelings, the Great East Japan Earthquake occurred. At that time, I strongly felt that I wanted to use my skills and experience for the sake of society and for the community, which was "rewarding" for me.
First of all, there was a project to develop overseas sales channels for traditional crafts in a project related to regional revitalization at that time, and the project was carried out in Nichinan City, Miyazaki Prefecture. After that, he moved to Miyazaki prefecture from the viewpoint of community development based on the field principle.
When I think about it now, this job was epoch making. With crowdfunding, which was still new at that time, he succeeded in the project "I want to bring traditional crafts to gift shows around the world" and appeared in "The Dawn of Gaia", and was featured in various media. I received it. It was a project that was realized thanks to the local people, with a lot of support and cooperation from the people of Miyazaki Prefecture. I still have a strong desire to give back to Miyazaki Prefecture.
As a result, I became able to do regional revitalization work at about 10 locations nationwide, and the experience and connections I had at that time are being put to good use in AGRIST today.
In recognition of these activities, in 2017, Shintomi Town, Miyazaki Prefecture will be appointed as the representative of the newly established "Koyu Foundation". There, we developed a lychee of 1000 yen per grain, and collected a total of 5 billion yen in donations through hometown tax payment. I was also selected as a good example of regional revitalization in the country and gave a presentation at the Prime Minister's Office.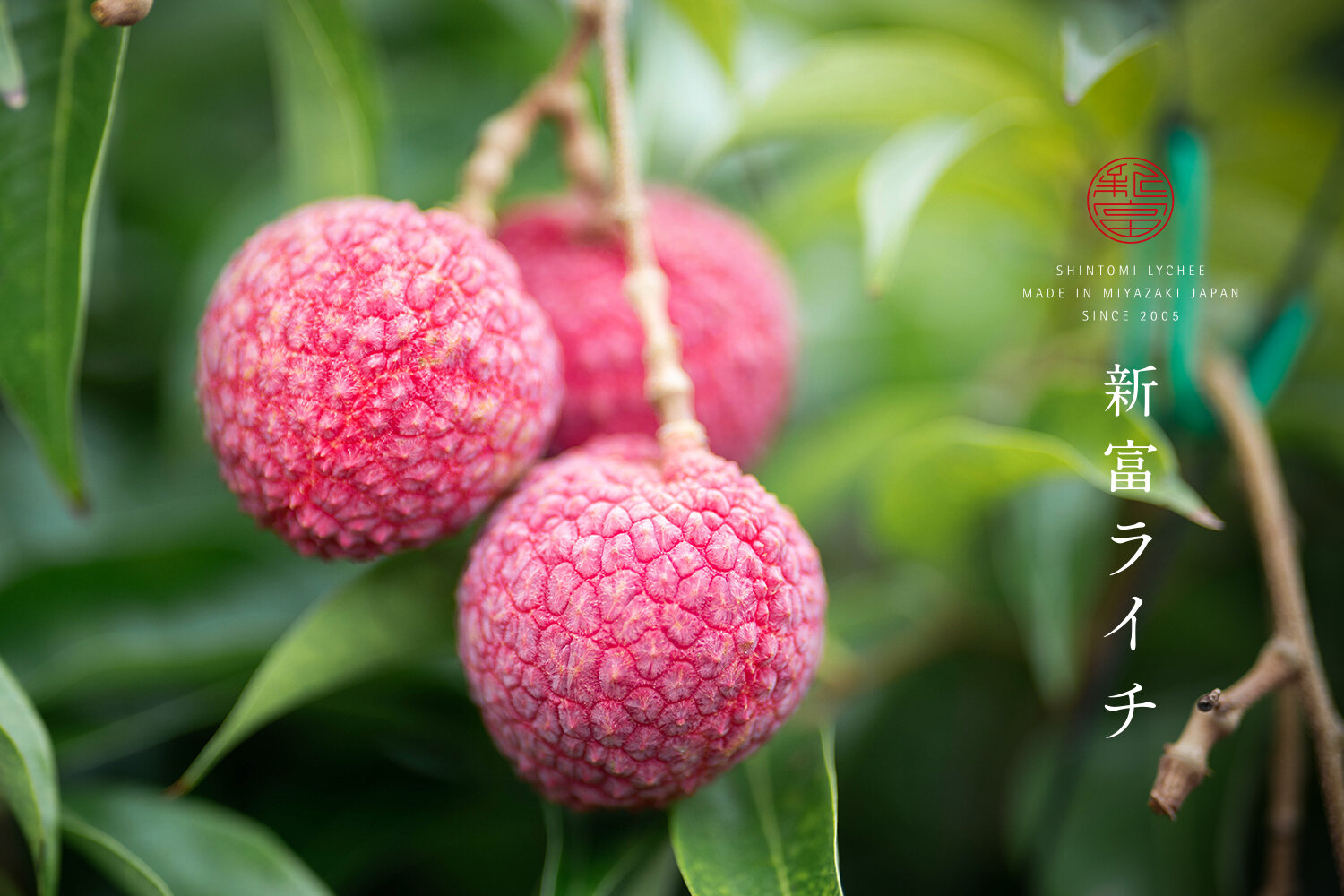 From the countrysideEstablished AGRIST Inc., Ltd. to solve global agricultural issues
you approach the agricultural business and how did you establish AGRIST Co., Ltd.?-How did
Since 2017, we have been holding regular study sessions with farmers in Shintomi Town, Miyazaki Prefecture. Agriculture was in a difficult situation to sustain due to issues such as labor shortages and pressure on labor costs. There were frequent voices from farmers saying, "Robots are absolutely necessary for agriculture."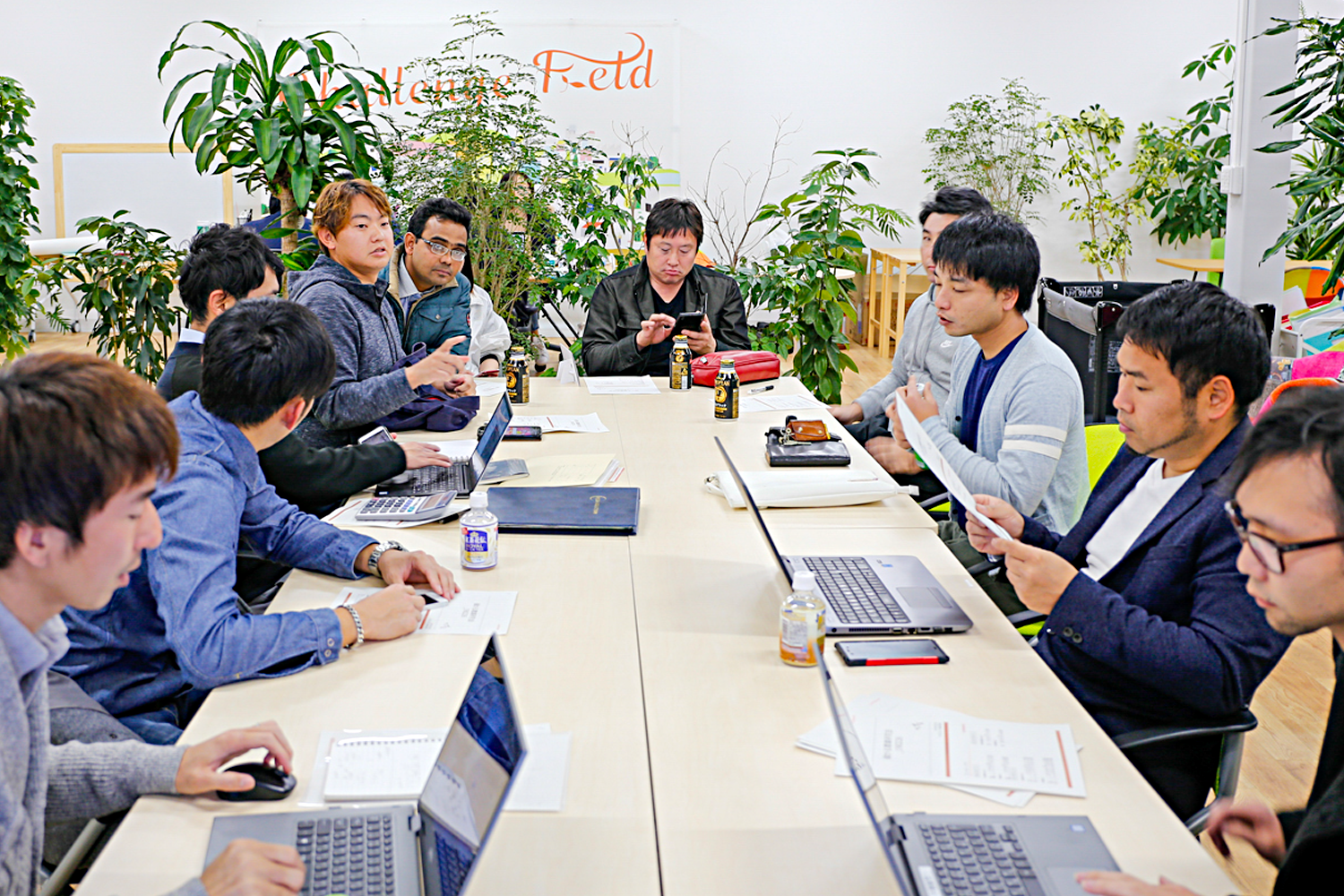 Study session with farmers

Some farmers quit due to lack of successors, and as I was walking down the road, the number of vacant houses was increasing, and I felt the problem of labor shortage. However, I didn't have the technology to develop robots at that time, even though I clearly knew that local agriculture needed robots.
At that time, I had the opportunity to give a lecture at Kitakyushu National College of Technology, and I met Hata, the current CTO who was there. Originally aspiring to be a farmer, he wanted to​ ​take on the challenge of making robots, so he immediately started development with the idea of "let's make it" and established AGRIST Co., Ltd. in 2019.
Making a prototype with members of Kitakyushu National College of Technology

The developed robot is equipped with artificial intelligence and patrols inside the greenhouse to harvest agricultural products. It is a hanging type harvesting robot that runs on wires regardless of the scaffolding of the greenhouse. Images of agricultural products are analyzed as big data to improve harvest accuracy. In 2020, we were able to win eight domestic business contests, and we are now in the phase of expanding sales channels.

-Why did you start a business in Shintomi Town, Miyazaki Prefecture?
That's because starting a business in the area is the best way to hear the voice of customers. We are currently developing a robot with Mr. Fukuyama, a farmer. The issue we feel about agriculture in Shintomi is just the tip of the iceberg, and we believe that it will definitely spread nationwide in three to four years. That is why we started in Shintomicho. If we can solve the problems of Shintomi Town, we can solve the problems of Japan and scale to the world. Furthermore, if you use not only hardware but also software, it should lead to solving various problems.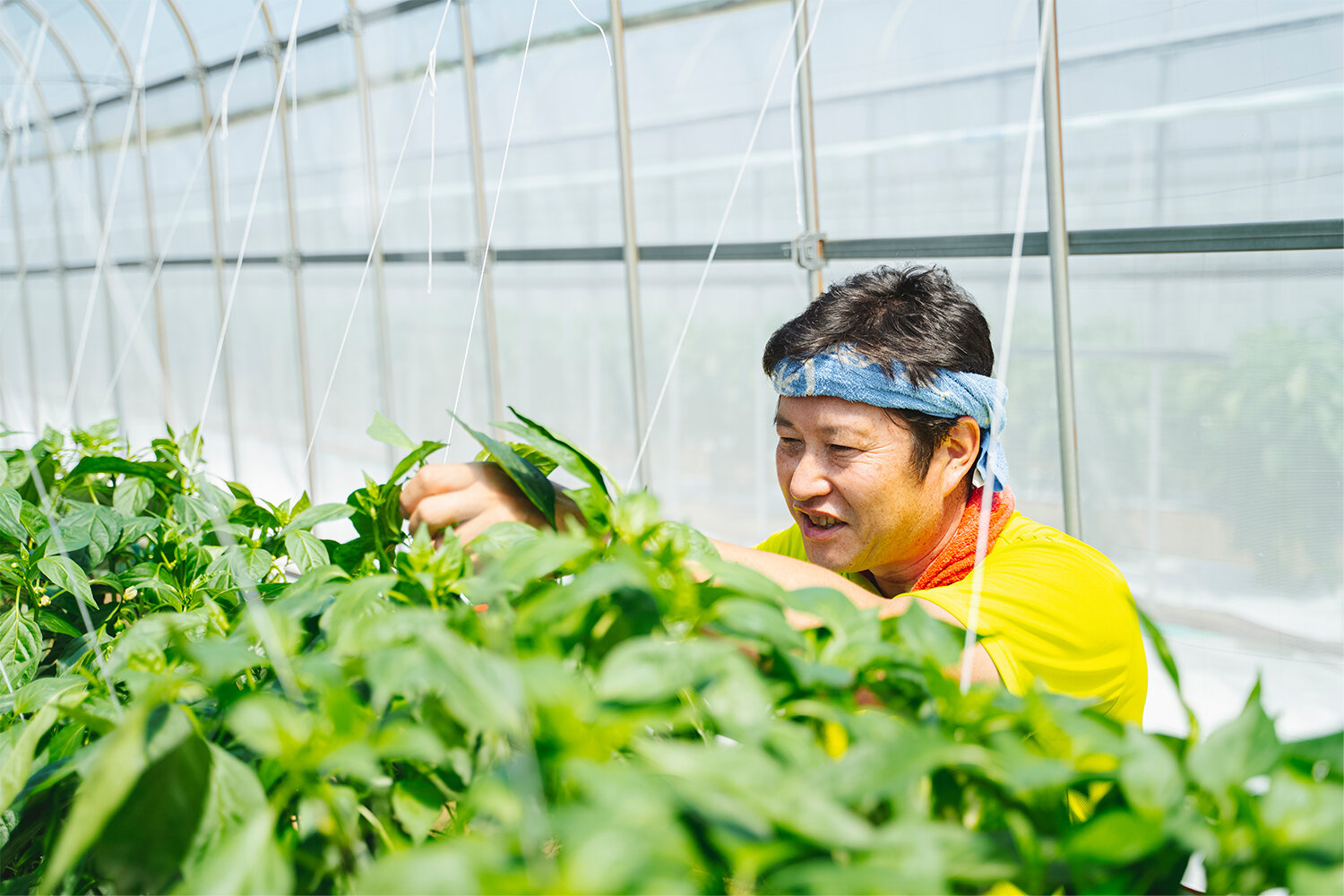 Mr. Fukuyama, a farmer who is co-developing a robot

17,000 Solving the world's problems from a small town of people has great social significance. Also, as an entrepreneur's strategy, we see this activity itself as public relations and marketing.
In modern times, it is not enough to have a "perfect product", but "perfect product + empathy" moves people's hearts. It is because we take on challenges from a small town that we create sympathy, increase the number of customers, and scale our business. I have that kind of image in my activities in Shintomicho.

"Who and why" isthe most important thing in business
-What is important in creating a business?
I always value "why do you do the business and who you want to do with". It's a way of thinking that can be said to be the root of my business.
For example, the advertising job of the big company mentioned above may have a large budget, but I didn't have the idea of "why do the job". When I get involved in a local job, I'd be happy if I could solve social issues and have the locals say "thank you", which is why I do that job.
"Who to do with" is also very important. It was the power of the team that the Koyu Foundation was selected as a good example of regional revitalization in the country just two years after its establishment, and the case was presented at the Prime Minister's Office. As my own role, I developed a special product, lychee for 1000 yen per grain, and put on my own headgear and promoted it nationwide. From this experience, "who to work with" became an important point in starting a business.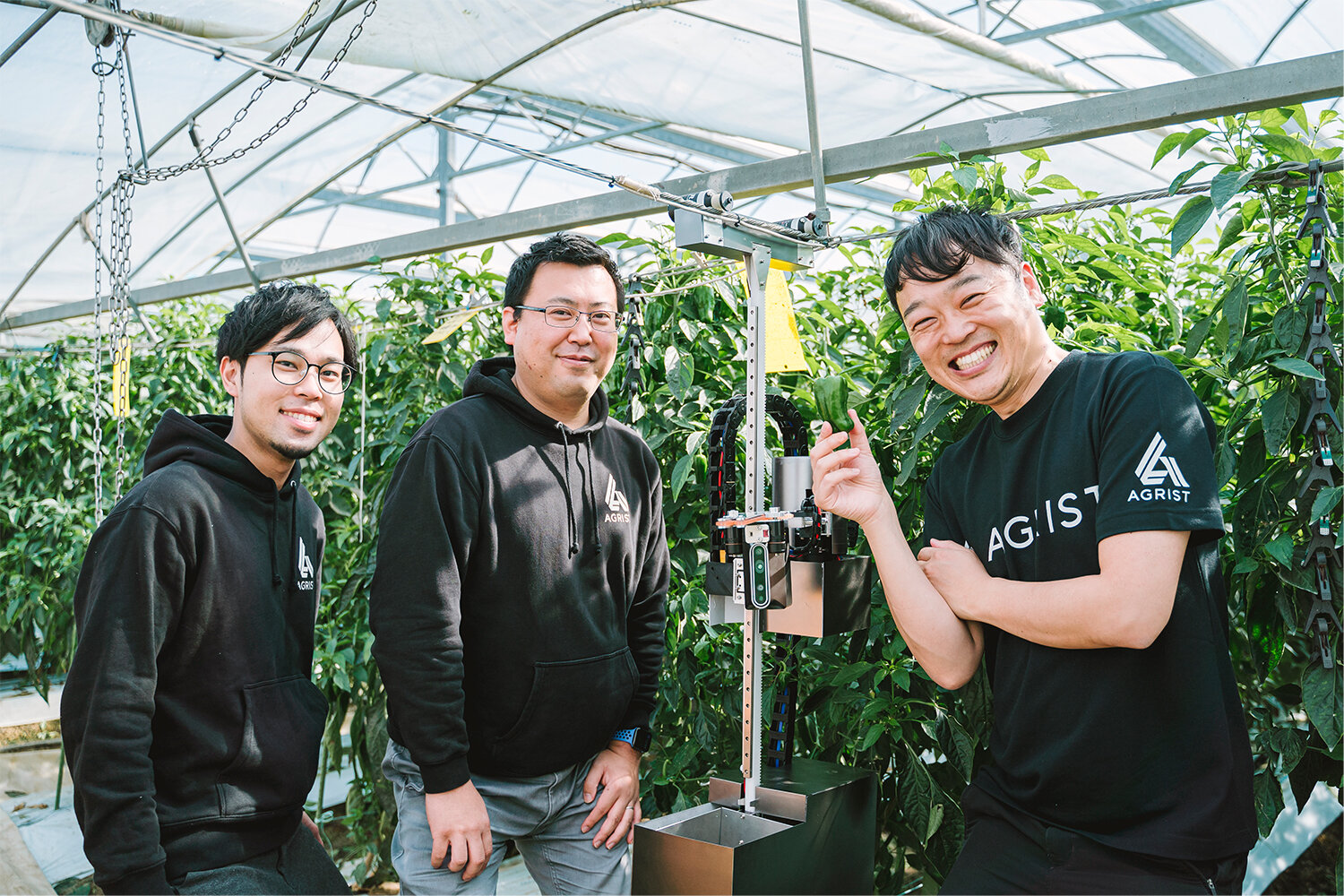 Hata CTO (left) and Takahashi COO (center)

-I think that accepting investment is a kind of "who you do it with", but what made you get JAFCO's investment?
Agriculture is very much involved in regional revitalization, and I thought that we had to create a movement for the entire region and a movement for the entire country. I thought that it would not be possible to scale unless the issues were solved by the locals, so I consulted with​ ​a venture capital firm in Kyushu and a local financial institution in Miyazaki Prefecture at the initial stage of financing.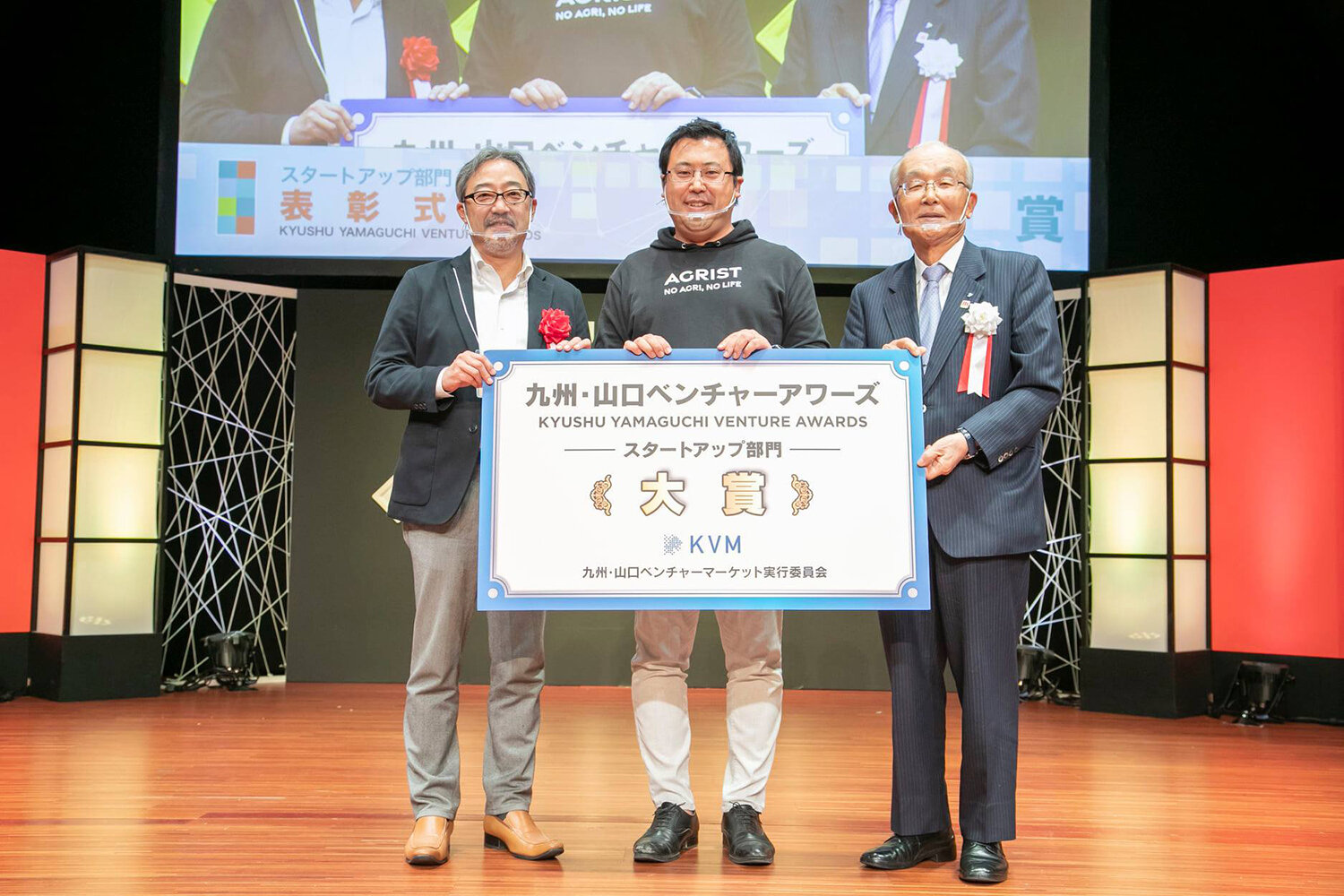 Received the grand prize at the Kyushu Yamaguchi Venture Awards

From there, I sympathized with the need for agricultural robots and promoted the business, but after that, in the process of promoting smart agriculture such as solar power generation, I met Eneos and received an investment.

Believe in your intuitionJAFCOI chose
And just a fundraising round series A Completed, Received many awards in IVS and other business contests at the same time JA JAFCO's accelerator was also selected at the timing when I wanted to develop a sales channel at once. Osamu Yamagata From Facebook for the first time in a few years I was contacted by messenger.
It was a mysterious feeling as if the wings of an angel were fluttering from the sky. According to Mr. Yamagata, he seems to have seen my activity on Facebook since he met at the event a few years ago, and it was also seen that I was doing PR activities wearing a 1000 yen lychee headgear. That's right (laughs).
Although I am a logical person, I have a section that believes in ties and intuition. I think that the sixth sense comes from collective intelligence through experience. In fact, when Mr. Yamagata contacted me, several companies asked me to invest.
However, I believed in my intuition and wanted to work with Mr. Yamagata, so I decided to receive Mr. JAFCO's investment as a series A extension round. JAFCO is a very encouraging partner for the dramatic growth of our business in the future, such as listing. However, above all, the desire to work with Mr. Yamagata was superior.

Solving global agricultural issues from rural areas,Realization of a sustainable societyAiming for
-What kind of business are you planning to develop in the future?
In Japan, where the population is declining in the future, it is inevitable to solve domestic agricultural issues. I will steadily tackle that issue, but on top of that, I would like to grow my business while paying attention to profits. AGRIST is not a charity, so it is important to have a social impact in a capitalist economy.
Next to solving Japan's problems is the world. In addition to robots, I would like to work with overseas businesses to solve problems through SaaS and patent licensing. We are also considering solving global agricultural issues in the future in collaboration with the United Nations and JICA.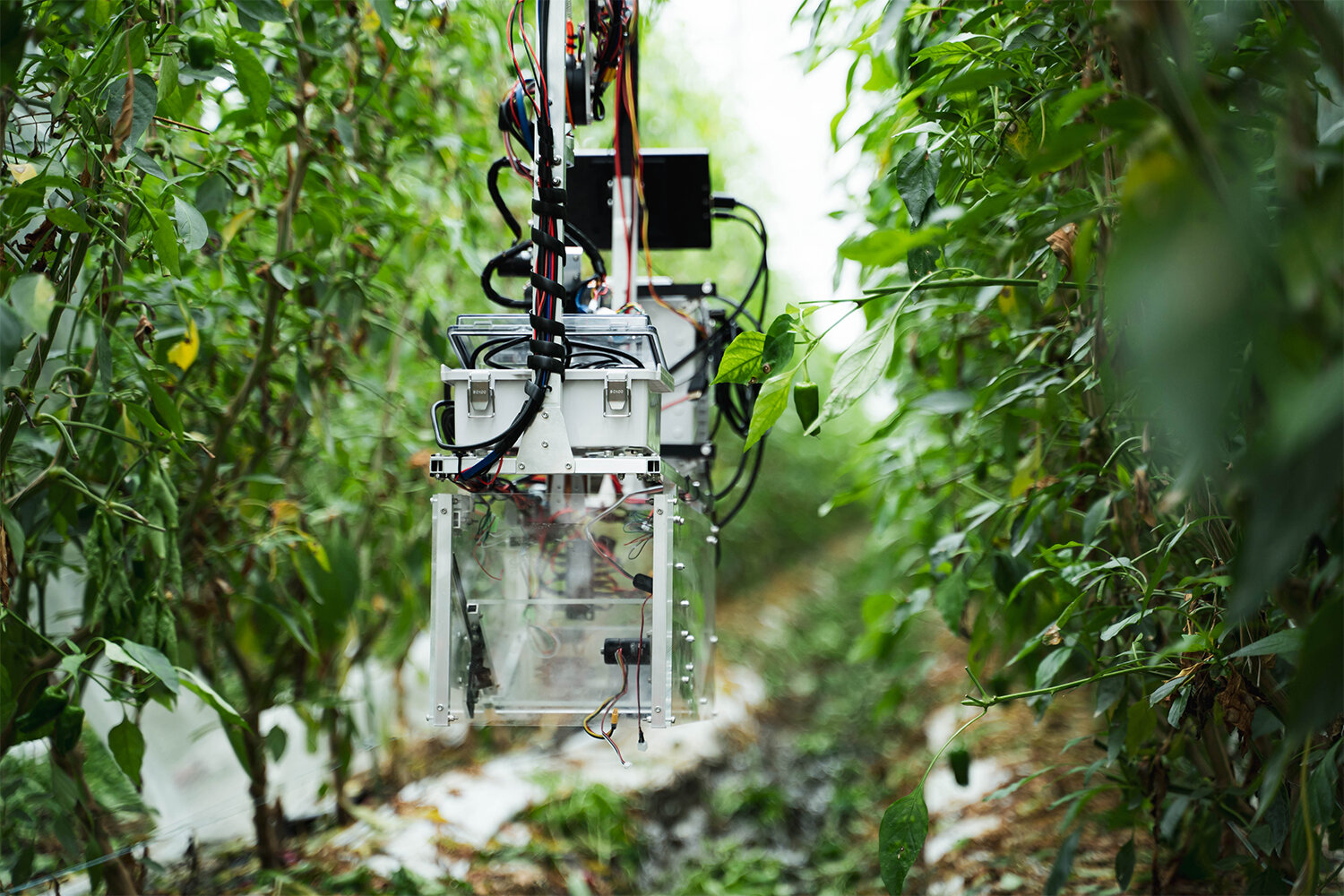 One of the themes is to make the business sustainable from the idea of SDGs. Use AI and big data to increase or grow the value of your business. AGRIST 's ambition is to contribute to solving the world's agricultural and food issues in a sustainable manner, starting with agriculture in a small town with a population of 17,000 in Miyazaki Prefecture.
Technology should be mainstream in 2040. We are working with an eye on the world where not only 5G but also 6G spreads. After that, I think it is important how to steadily stack up and speed up.

-Finally, do you have a message for young entrepreneurs and those who want to start a business?
When starting a business, I would like you to value "who and why" rather than satisfying the desire for approval or being an entrepreneur. It may be abstract, but the fundamentals of human beings are the most important for the success of a business.
AGRIST also attaches great importance to "who and why" in recruiting activities. While actually working for a major company, many people sympathize with the solution of agricultural issues and make inquiries.
In business schools such as Silicon Valley, it is said that "the important thing in entrepreneurship is not to become an entrepreneur, but to maintain an entrepreneurial spirit." When an unexpected change such as the new coronavirus such as this time comes, it may be disturbed​ ​by external factors.
However, even in such a case, if you have a firm grasp of "who and why", you will be able to support each other and overcome difficulties with an indomitable spirit. I think that will lead to the fostering of an entrepreneurial spirit and the business will grow.